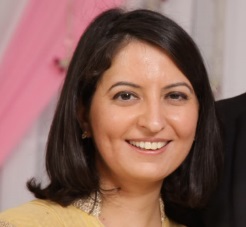 Ruchi Seth
Published December 06,2016
Obituary's Biography:
Ruchi Seth, age 42 of Libertyville passed away Saturday, December 3, 2016 at her home surrounded by her loving family. She was born in India on August 14, 1974 to Nipun and Rajen Lav. Ruchi was an adored and loved child not only by her family but her friends and teachers in school and college. Ruchi had a hunger for learning as she completed her MBA from Amity Business School in India, Certification in Market Research from Leicester University, UK and Marketing certifications and scholarships from University of Notre Dame-Mendoza College of Business, Harper College & Northwestern University-Kellogg School of Business. 
She married her husband Ashim in 1998, relocated to Shanghai, China for 2 years and navigated her way in a foreign country by working at a local Chinese Market Research company in Client Relations. She sharpened her debating, negotiating and bargaining skills on the streets of Shanghai while shopping after work while Ashim was traveling. She moved to India for a year where she worked at IDC and did a deep dive in the IT industry. 
Keeping his promise at marriage that life will not be dull for a moment, Ashim again uprooted her to the US in 2001 where she restarted her career in a consulting role at Market Probe, a market research company based out of Milwaukee. In 2005, she joined and found her true calling at Hollister Inc, an independent, employee-owned company that develops, manufactures, and markets healthcare products and services worldwide based out of Libertyville, IL. Not only did she work at a job here but met and made many new friends and extended her family. She was willing to go the extra mile any time as she truly loved what she did, waking up at 5 am in the morning, having a cup of cappuccino (Ashim converted her from a tea drinker), opening her laptop and preparing for presentations on market data for Hollister and eventually moving into a Product Management role. It was heartening and humbling for Ashim and her parents & sisters when they visited Hollister to experience the love from her colleagues and friends as soon as they entered the reception area, through the cafeteria, up the stairs or elevators   to the Marketing dept. 
Ruchi loved nature, birds, long walks in Independence Grove, shopping, traveling and most of all spending time with Ashim. She knew how to enjoy and live & experience each moment as her Marketing role allowed her to expand her horizons and experience new cultures. 
In 2014 she was diagnosed with Brain Cancer, went through a grueling treatment schedule and ultimately lost the battle on December 3, 2016. She neither complained nor cried while she was suffering, always smiling and spreading cheer around her to keep everyone's spirits high. She always went beyond her way to help people even as she underwent surgery, radiation, chemo and various side effects. It was heartbreaking for Ashim's family in India who are all doctors as they triaged with doctors in US to help fight the cancer. She joked often that she should be given a frequent flyer card at Northwestern Memorial Hospital where the doctors and nursing team in Grayslake and Chicago went out of their way to make her comfortable through this battle. Life was worth living with Ruchi in it. Wherever she went she infected people with her caring yet humorous nature 
A visitation is scheduled for Wednesday, December 7, 2016 from 11:00am until 1:00pm at Strang's Funeral Chapel & Crematorium 410 E. Belvidere Rd. Grayslake, IL 60030. This will be followed by a private cremation service at the Chapel in the Hindu tradition. In lieu of flowers, donations may be made to the Brain Tumor Institute at Northwestern Memorial Hospital. 
http://www.braintumorinstitute.org/contribute/giving/index.cfm