People choose cremation for a variety of reasons. Some people have religious or philosophical reasons, while others prefer cremation because it's simpler or more natural to them.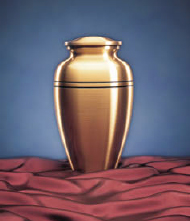 Cremation is an alternative to an earth burial. If you choose cremation, you still have all of the options available to you for a ceremony, specific religious service, or memorial service.
You can choose interment at a cemetery, a graveside service, or a memorial observance at our funeral home. We have an extensive selection of urns and other containers to preserve your loved one's remains. We also give you the option of having the ashes scattered in a memorial garden or other special place of your choosing.
Our cremation process ensures that from the moment your loved one arrives at our funeral home until the cremated remains are returned to you, your loved one never leaves our care.
You have several options for a funeral service when you choose cremation.
01
Visitation and Ceremony
Your loved one will have a viewing in the casket at a designated time (this can be an all day visitation or just a few hours). All friends and relatives are invited to gather, comfort and support one another. A service would follow the visitation at our funeral home. Following the service, your loved one will be taken to our crematory.
02
Private Viewing and Ceremony
This option is similar to a visitation and service with the exception that it is open only to family members and invited close friends. Family members briefly say goodbye but do not have a formal viewing.
03
Memorial Ceremony
Cremated remains are presented in an urn at the visitation/service. A memorial service is usually held either in our funeral home or church. All memorial services can be individualized to reflect your loved one's life.
04
Night Ceremony
Service and visitation are held at night with a private interment the following day. This option allows people to attend who may not be able to leave work during the day.
05
Customized Ceremony
Your funeral service professional will assist you in arranging any service that meets your individual needs.
06
Direct Cremation
There is no viewing or ceremony. The remains are taken directly from the place of death to the crematory