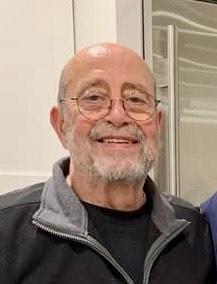 Robert J. Guthridge
Published October 31,2022
Obituary's Biography:
Robert J. Guthridge, 73, a resident of Grayslake, IL, passed away October 23, 2022, after a long battle with Pulmonary Hypertension at Northwestern Medical Center in Chicago, IL.  He was born October 21, 1949.
Bob was an award-winning artist. He was most recently a concert and nature photographer, a sculptor and cartoonist. He worked in Information Systems for approximately 25 years. Bob and Lois moved to Tennessee in 1990 and returned to Grayslake in 2020.
His photographs were included in nine books and appeared in group shows and had three solo gallery showings. He had many photographs of BB King and one in particular appeared on BB's tour t-shirts, guitar picks and autographed photos.
He also created miniature scenes within mannequin heads. Using dark humor, the heads make critical statements on today's social and environmental issues. The mannequin environments are made up of miniature animals and 3-D printed props. Five of the heads were accepted and into ArtPrize 7, and shown in Grand Rapids, Michigan. He also created cartoons which dealt with social and political issues.
Bob received his BFA from the School of the Art Institute of Chicago in 1971. He received his MA from the Memphis College of Art in 2015.
Bob is survived by his wife of 46 years, Lois Guthridge, his son Christopher Wild, his brother Randy (Judy) Guthridge, and his nieces, nephew and cousins. He was preceded in death by his parents, Robert R. and Maryan Guthridge.
A memorial visitation is scheduled for Saturday, November 12, 2022, from 2 p.m. to 4 p.m. at Strang Funeral Chapel, 410 E. Belvidere Road, Grayslake, IL 60030. A memorial service will begin at 3:30pm on Saturday at the funeral home. For more information, please call (847)223-8122 or visit www.StrangFuneral.org.