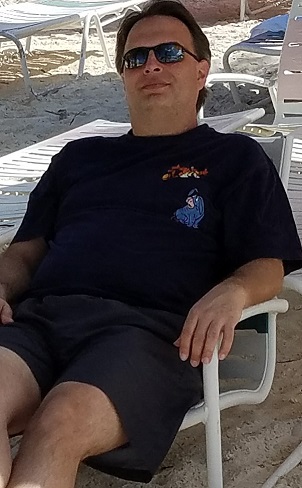 Michael Locke
Published May 10,2022
Obituary's Biography:
Michael Locke of Grayslake, IL
After a hard-fought battle with cancer, Michael Locke (age 49) went to his heavenly home on May 7, 2022. He leaves behind his wife Eva, sons Chris and Mikie, parents Jim and Pattie, and brother Kevin. Michael was a quiet man who loved the Lord, his family, and close friends and had a sharp sense of humor. Those who cared for him in his final months noted that he was uncomplaining and kind even when he didn't feel well.
Michael graduated from Warren High School and completed courses at the College of Lake County where he excelled at writing. Michael had 20 years of experience at USA Bluebook and was known for his work ethic, passion for quality, and meticulous research.
Michael worked on several classic car restorations in his spare time and loved to travel. He always had several trips planned years in advance. He was a connoisseur of music and made mixes of his favorite songs. He also loved movies and could quote lines from his favorite movies verbatim.
Michael and family currently attend Fierce Church in Grayslake. Michael had a heart for global missions and was involved in several mission trips and loved organizations like Compassion International and Feed My Starving Children.
 Visitation will be at Strang Funeral Chapel & Crematorium 410 E. Belvidere Rd. Grayslake, IL 60030 on Saturday, May 14 at 1:00 pm, followed by a service at 2:00 pm. In lieu of flowers, donations can be sent to www.compassion.com or www.fmsc.org. For more information log onto www.strangfuneral.org or call (847)223-8122.