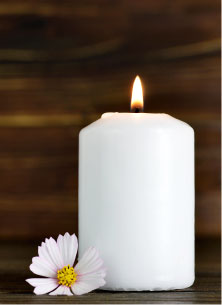 Karen R. Hook
Published December 19,2018
Obituary's Biography:
Karen R. Hook passed away on December 18, 2018 at Advocate Condell Medical Center.  She was born April 4, 1942 in Waukegan, IL to Delbert and Helen (Sloncen) Hook.  She was a long time resident of Grayslake, IL and a member of St Gilbert Catholic Church until moving to Antioch, IL where she was a member of Our Lady of the Lakes Parish-St Peter Catholic Church.  Surviving are her sisters, DelRaye (Robert) Bonfanti and Mary Hook both of Antioch, IL.  Her nieces and nephews Gina (Randy)Kenyon of Woodstock, IL, Keith (Lora) Bonfanti of Tucson, AZ, Jeffrey (Trisha)Bonfanti of Long Grove, IL and Nicole (Darryl) McPherson of North Aurora, IL.  She is also survived by her great-nieces, nephews, aunts, cousins and friends. She was preceded in death by her parents. Karen worked at Hook's Walgreen Agency in Grayslake, IL, Fojtik Pharmacy in Fox Lake, IL and Cole Pharmacy in Richmond, IL.  She served on the Avon Centre Cemetery Board and a member of the Grayslake Historical Society.
The family wishes to thank her caregivers, Lisa and Lynn for their excellent care and thestaff at Fresenius Dialysis Center-Antioch.
Visitation will be held on Friday, December 21, 2018 from 4p.m. to 7p.m. at Strang FuneralChapel & Crematorium, Ltd. at 410 E. Belvidere Road, Grayslake, IL. Funeral Mass will be at 10 a.m. on Saturday, December 22, 2018 at Our Lady of TheLakes-St. Peter Church at 557 Lake Street, Antioch, IL.
In lieu of flowers contributions can be made to Grayslake Historical Society P.O. Box 185Grayslake, IL 60030 or Our Lady of the Lakes-St Peter Church.