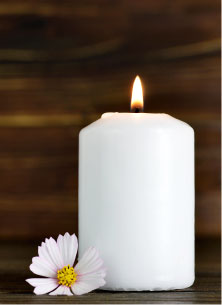 Rose M. Bauer
Published December 18,2018
Obituary's Biography:
Rose Marie Bauer passed away on December 16, 2018 at Travanse Living Residence in Grayslake, IL.
She was born on February 8, 1919 in Fremont Center, IL, the daughter of Cora and William Diebold. After being united in marriage to Charles Sumner Bauer on September 19, 1939, Rose moved to Grayslake where she lived her adult life.
Preceding her in death are her husband, Charles; her parents; two brothers and a sister.
Surviving are her five children: Dolores  Haynes, Gurnee, IL; Pat (Herb) Eldean, Macatawa, MI; Kay (Don) Saffold, Golden, MO; Donald Bauer, SR, Lake Villa, IL; and Lori Neff, Lake Villa, IL; seven grandchildren: Erik (Hang) Bowman, Alabama; Kori (Doug) Rentz, Connecticut; Wade (Kris) Eldean, Michigan; AmieBauer, Chicago, IL; Donald Bauer, JR, California; Jenna Bauer, Chicago, IL; Kelsey Neff, Lake Villa, IL; and five great grandchildren: Ryan Eldean;, Hunter Bowman; Alexander, Ella, and Lachlan Rentz; two sisters: LaVerne Langston, Godrey, IL and Marion Grinnell, Lindenhurst, IL.
Rose was an active member of St. Gilbert's Catholic Church in Grayslake for all of years in Grayslake.
She will be remembered as a wonderful mother and grandmother, finding great joy in being with her family.
The family will receive friends on Friday, December 21, 2018 from 10:00 a.m. to 11:00 a.m. at St. Mary of the Annunciation Catholic Church, 22333 W. Erhart Road, Mundelein with a Mass following at 11:00 a.m.  Interment will be held at St. Mary Catholic Cemetery in Mundelein.
In lieu of flowers, memorials contributions may be to the Grayslake Public Library in her name.
For information, please call (847)223-8122 or visit www.strangfuneral.org