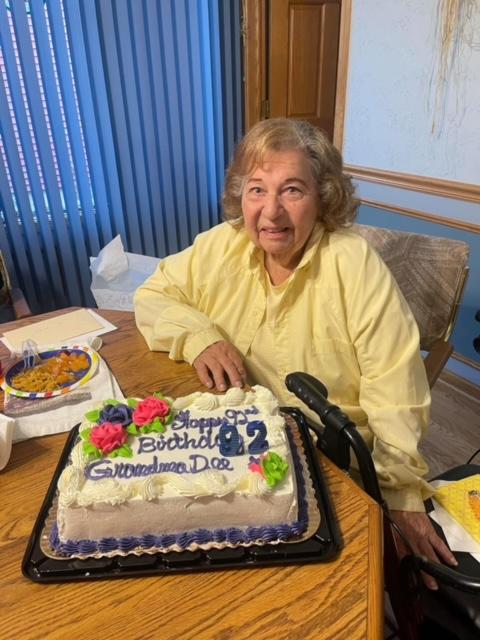 Frances C. "Dee" Schuster
Published April 23,2023
Obituary's Biography:
Frances C. "Dee" Schuster, age 93, a resident of Vernon Hills, passed away on April 20, 2023 at her home. She was born October 3, 1929 in Chicago to Anthony and Frances Gullo. Dee's true love was art. She painted in many different mediums; oils, watercolor, acrylics, chalk, and pencil over her lifetime. She was in many different art fairs including the Gold Coast in downtown Chicago and many years in Des Plaines. She won numerous awards throughout her career. She was a member of St. Ferdinand Catholic Church and the Des Plaines Art Guild. Dee worked as an administrative assistant and did not retire until she was 76. She had many friends and will be missed by all. She truly enjoyed family get togethers especially since her grandchildren and 8 great grandchildren came along. She loved her dog, Nikki, until her passing.
Frances is survived by her daughter, Debra Lynn; her daughter-in-law, Karen; her grandchildren, Jon II (Ellie), Christopher, Kristen, Jodie, and Kimberly; 8 great-grandchildren; her siblings, Santa Rae Maher and Vincent (Nancee) Gullo. She is preceded in death by her husband, Joseph; her son, Anthony; her son-in-law, Jon; and her parents.
A funeral service will be held at St. Gilbert Catholic Church, 301 E. Belvidere Road, Grayslake, IL 60030 on Thursday, April 27, 2023 at 11:00am. A visitation will be held at Strang Funeral Chapel, 410 E Belvidere Road, Grayslake, IL 60030 on Wednesday, April 26, 2023 from 4:00pm until 8:00pm. Interment will be held at All Saints Cemetery in Des Plaines. In lieu of flowers, memorial contributions may be made to the ASPCA (www.ASPCA.com) or Disabled Veterans (www.DAV.org). For more information, please call (847)223-8122 or visit www.StrangFuneral.org
To view Dee's Funeral Mass, please use this like: https://www.youtube.com/@stgilbertlive2337
Dee's Memorial Video: https://www.tributeslides.com/tributes/show/YDZYB6P9MBQFC2LJ