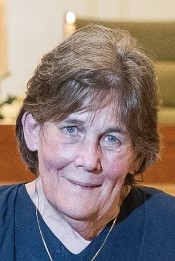 Susan W. Hughes
Published January 13,2023
Obituary's Biography:
Susan West Arnold Hughes passed away, comfortably at home, on January 7th, 2023, at the
age of 78. Born in Springfield, Massachusetts, she was a graduate of Longmeadow High
School. While away at Endicott College, Susan followed her heart and eloped after eight days of
knowing John Stephen Hughes (and YES, to her, he was "THE" John Hughes), and what some
may have thought to be a crazy move, turned out to be a lifelong love story. Susie packed up
her things in a large trunk and moved to Evanston, Illinois, with John. There, they had their two
babies, before settling in Deerfield, Illinois, to raise their children. During those years, Sue was
spent her time devoted to her family, and spent countless hours cheering on John and Jennie at
their sporting events. In 2006, John and Sue relocated to Grayslake, Illinois, just two houses
away from their daughter's family, and they quickly came to love the wonderful community and
neighbors that surrounded them and reminded them of the warmth they felt when they had first
settled in Deerfield.
Sue was a self-proclaimed "hippie," with a preppy style, and was a woman of many talents. She
typically had a witty comment or "Friends" quote up her sleeve. She was an ace on the tennis
court and could play a mean (but friendly) hand of cards! She was extremely creative and skilled
with her hands, especially sewing, needlepointing, crocheting, basket weaving, and you may
even find her reupholstering furniture or creating finger puppets for her great-grandchild! She
had a thriving rose garden and a green thumb that had her grandchildren tapping her for advice,
anytime they had a garden that needed some extra love. She was always up for trying a new
recipe or taking on a DIY project, whenever she had the chance! While she read many novels, if
you asked her favorite book, she may actually name one of the childhood classics: The Time of
Wonder or Make Way for Ducklings. She had a stocked toy closet and playdoh collection for her
grandchildren, growing up. She had a full cabinet of toys and treats for the pups and kitties in
her family that she adored. She also always had favorite snacks handy, so she could promptly
ask "what can I getcha?" whenever those she loved came by! If you asked her for a grilled
cheese, she would cut it in the shape of a heart, crustless! She loved the ocean, and tasting the
salt water, as the waves rushed over her feet, each time she revisited the east coast. She loved
a nice glass of iced tea and a sandwich with tomatoes, melon, or strawberries on the side, while
she watched the Cubs or Red Sox play an afternoon game, or a great tennis match, on a sunny
day. Most of all, she loved her friends and family deeply!
Susan is survived by her loving family, whom she got to spend time with in the weeks before she
passed, during cheerful holiday celebrations, including: her children, John Hughes (Maureen)
and Jennie Hughes Janda (Michael); her grandchildren, Tayler Janda Hamrick (Ryan), Emma
Hughes, Megan Janda (and fiancé, Drew), and Seamus Hughes; and her great-grandchild,
Mickey Hamrick. Additionally, she is survived by family out east that she adored and so enjoyed
going out to visit, her brother, Arthur Alexander "Alex" Arnold III (and wife, Jane), and their two
sons' wonderful families. She is also survived by many furry family members who were never
sad about her pockets full of treats and ability to stitch up any ripped toy.
She will certainly be missed by many and remembered fondly! Those who loved her will find
comfort in knowing she is now reunited with her husband, parents, and other loved ones in
Heaven, probably right back to beating them in a game of cards, as we speak.
An informal celebration of Sue's life will be planned, shortly. In lieu of flowers, donations can be
made in Susan's honor to American Cancer Society, a local animal shelter of your choice,
Guiding Eyes for the Blind service dog organization, or ASPCA. All arrangements were entrusted to Strang Funeral Chapel & Crematorium 410 E. Belvidere Rd. Grayslake, IL 60030. Please log onto www.strangfuneral.org for more information.