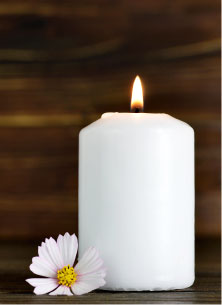 Nicki Garrett
Published August 22,2021
Obituary's Biography:
Dear, Nicki Garrett (nee: Oliverii), your body has left this Earth, but you are not gone. You remain a part of me and the world that surrounds all of us. I will keep safe and cherish the memories of your compassionate heart and your witty sense of humor that could bring me out of my worst mood. I will remember your creativity and dramatic flair. I will remember our singing sessions and promise to continue to belt out Evita and Tori Amos tunes. When I feel the sadness of knowing that we won't be sharing breakfast and shopping dates. I will remember that you are at peace and that you no longer have to fight the demons that plagued you. I will remember and take comfort in knowing that your energy, spirit, and beautiful soul remain … with all of my love, Mom
Nicki is survived by her mother Nancy Oliverii Olson, her step-father Dale Olson, her aunts and uncles Donna (Jon) Walker, Dawn (David) Wulf, and David Oliverii, her step sisters and brother Sara Olson, Zack Olson, Cheryl Siegel Corona, and Jean Siegel, her cousins Christopher Oliverii, Jay Westergaard, Daniel Wulf, Gracie Walker, Amy Walker, Drew Kennedy, Destiny Kennedy, Tiana Wulf, Savvanna Wulf, Sylus Wulf, Sebastian Wulf, Tony Murray, and Logan, her honorary uncles Fred Allen and Mike Walach. She was preceded in death by her aunt Debbie Michelini. All funeral arrangements were privately held and entrusted to Strang Funeral Chapel & Crematorium, 410 East Belvidere Road, Grayslake, IL 60030. In lieu of flowers or gifts, please place a donation in the name of Nicki Garrett to beaconplace.org, liveunitedlakecounty.org, padslakecounty.org, nicasa.org, or any nonprofit dear to your heart For more information please contact (847)223-8122 or log onto http://www.stranfuneral.org.