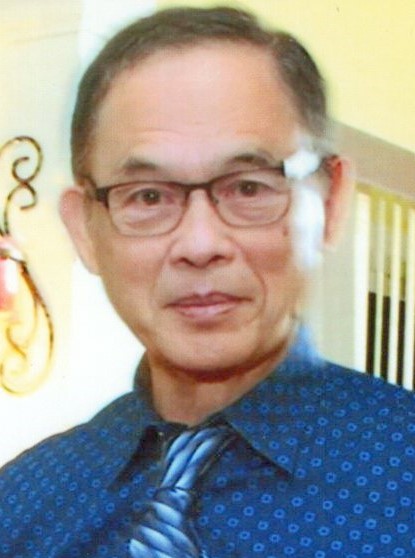 Manuel Dy
Published December 14,2022
Obituary's Biography:
Manuel Dy November 24, 1942 – December 5, 2022
Manuel Danoy Dy, affectionately called "Guani" by those who loved him, went home to be with the Lord on December 5, 2022, at 80 years of age in Buffalo Grove, Illinois, USA. His quiet strength and intelligence is fondly remembered by many.
Manuel was born to Presentacion Esteller Danoy Dy and Vicente Dy Chua Ling in Manticore, Misamis Oriental, Philippines, and was raised in Cagayan de Oro in Northern Mindanao, Philippines. He was the sixth child of ten children, predeceased by Enrique Dy, Dr. Fernando Dy and Leandra Gayta. He is survived by his siblings Fr. Roberto Dy, Julieta Sabanal, Luisa Yap, Leonora Almonia, Melchora Ebo, and Nicholas Dy. He is survived by his beloved wife, Victoria Sombong Dy, his daughter, Joan Dy, son-in-law Scott Cervantes, one grandson, Vincent Cervantes, and numerous nieces and nephews.
He spent much of his childhood helping his family at their store, and enjoyed boating at the river. He loved woodworking and playing chess. After receiving a bachelor's degree of Chemical Engineering at Mapua Institute of Technology in Manila, he immigrated to the USA and worked at the engineering firm, Sargeant & Lundy, to design blueprints for nuclear power plants. He met Victoria in Chicago, on a blind date to a disco, to which he wore a dark blue satin suit. They were married on June 26, 1976.
After their daughter Joan was born, they settled in the northwest suburbs of Chicago. He loved taking cross-country road trips with his family, singing Frank Sinatra songs while driving to California in his red Buick Regal. He was appreciative of literature and history documentaries, and loved watching the Chicago Bulls.
Manuel was a loving and devoted husband and did everything with Victoria by his side. They were married for 46 years. In 2011, he was overjoyed at his new role as doting grandfather.
Manuel was a devout Catholic and served as the Vice President of the Legion of Mary, Our Lady of Counsel Praesidium, in Buffalo Grove, and was an active member and unit coordinator of the Fatima Prayer Community Group. He enjoyed going to religious services and celebrations, and dancing at get-togethers.
Manuel was very laid-back, quiet and cool, with a mischievous smile. He loved to laugh and tell stories. His jokes were wry and his mind was sharp, until the very end, when he was diagnosed with dementia. Most importantly, he always put his family first, as a loyal husband, dad and grandfather, and a kind and generous brother.
A Catholic funeral mass will be held on Saturday, December 17, at 9:30 a.m. CST at St. Joseph Parish, 114 N. Lincoln Avenue, Round Lake, IL 60073. A burial of his cremated remains is planned for Spring 2023 at Queen of Heaven Cemetery in Hillside, Illinois.
Cards and correspondence to the bereaved family can be sent by mail to PO BOX 7277, Alhambra, CA 91802. Thank you for remembering him. He will be missed.
All funeral arrangements were privately held and entrusted to Strang Funeral Chapel, 410 E. Belvidere Road, Grayslake, IL 60030.  For more information, please call (847) 223-8122 or visit www.StrangFuneral.org. 
To view slideshow click here:https://www.tributeslides.com/tributes/show/X7B5BJPGSNXKJHJT