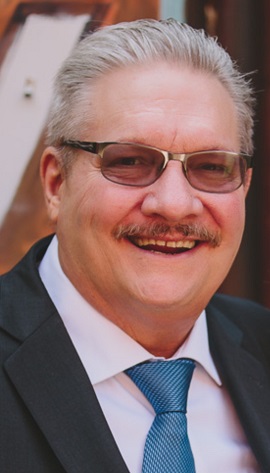 Lance H. Thickpenny
Published April 08,2021
Obituary's Biography:
Lance H. Thickpenny, loving husband, father, and grandfather passed away at the age of 66 on April 5th, 2021. Lance was born in Libertyville, IL in 1954, the son of Robert and Gladys (Dowden) Thickpenny. Affectionately referred to as "Howie", Lance graduated from Northern Illinois University with a degree in Art. He pursued a career in carpentry, alongside his brother Greg, and was a proud member of Carpenters Local 250 for 25 years. He married his wife Donna in 1980 and together they enjoyed 41 years of marriage. They had 3 daughters: Amy, Megan, Erin. Lance had a penchant for music that he carried with him through all stages of life. He loved to perform – whether it was from the driver's seat on the way home from work, on stage at the Last Chance, in the living room for impromptu family dance parties, or sitting around with family and friends enjoying each other's company – he could always be counted on to lend his voice and guitar. Quick to make a joke and get the party started, he took his role of father and grandfather very seriously. The loudest cheerleader in the stands, he always made sure his girls knew how proud he was of them. Outside of music & caring for his family, Lance was an avid Cubs fan, chef, movie lover, and loyal customer at Fred's Diner. Lance is survived by his wife Donna, his three daughters Amy (Katie), Megan, Erin, and granddaughter Kiara. He also leaves behind brothers Greg (Sheila), Mark (Emilia), Brian (Pamela), sisters Mary Ring and Jean Hughes, as well as brothers-in-law Michael (Susan) Sugrue, Raymond (Carmen), Daniel, James, Shawn (Mary) and sisters-in-law Colleen (John) McNicholas, and Mary K. He was a fond and loving uncle and great uncle to many nieces and nephews. Preceded in death by parents Robert and Gladys Thickpenny and mother-in-law Charlotte Sugrue. Lance was a very devoted family man and will be deeply missed by his family and friends. Services will be held on Saturday, April 10th from 9am-12pm at Strang Funeral Chapel, 410 East Belvidere Road in Grayslake, IL. Lance believed strongly in providing for his family. He would give anything to support his wife, daughters and their partners, granddaughter, and any future grandchildren. In lieu of flowers, any donations given to the family will be used to set up a college fund for Kiara and her future siblings and cousins. Donations can be sent directly to Strang Funeral Chapel in memory of Lance Thickpenny.
Due to COVID-19, we ask that anyone attending the services please respect social distancing guidelines and wear a mask. A virtual live stream of the memorial service is also available for anyone who cannot attend. For information, please call 847-223-8122 or go to www.strangfuneral.org.
Zoom Virtual Livestream Link: https://zoom.us/j/95704001318