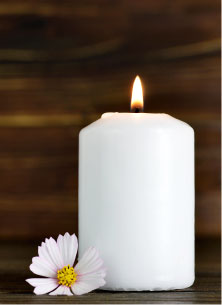 Jeanie D. Wiles
Published December 08,2018
Obituary's Biography:
Jeanie D. Wiles passed on Thursday, December 6, 2018. She was born in Lima, OH on February 5, 1961. She lived most of her adolescent life in northwest Ohio. She came from a large family which include her brothers, Robert (Amy) Mohler and Michael (Cindy) Derrow; sisters, Dawn (Michael) Schilling, Laura Mann, Ginger Dempsey, Debra (Michael) Baker, Vicky (Dave) Knoth, Jodi (Richard) Schaffner, and Sue (John) Timms. She graduated from Put-In-Bay High School in 1979. Her greatest joy was having children. Jessica Klamm was born in 1980 and James E. Dunn III in 1982. She also has 3 grandchildren, Jason Carpenter, Helene Klamm, and Aurelius Dunn.
Jeanine loved children and ran a very successful in-home day care on the naval base. She later worked as a personal secretary, computer operator, paralegal and real estate closer. She retired with her husband in 2007. She was married to Timothy P. Wiles for 31 wonderful years.
She opened her home on occasion to family and friends who needed a safe place to stay. She became a member of the Gift of Hope Donor Program through the State of Illinois. She believed in recycling and even in death she continues to help others. She will be missed by all the lives she touched.
A visitation and memorial service will be held on Saturday, December 15, 2018 from 2:00 p.m. until 5:00 p.m. with the memorial service beginning at 5:00 p.m. at Strang Funeral Chapel & Crematorium, 410 East Belvidere Road, Grayslake, IL 60030. Interment will be held privately. In lieu of flowers, please make donations to the Home of the Sparrow, or the House of David in Waukegan. For more information, please call 847-223-8122 or go to www.strangfuneral.org.