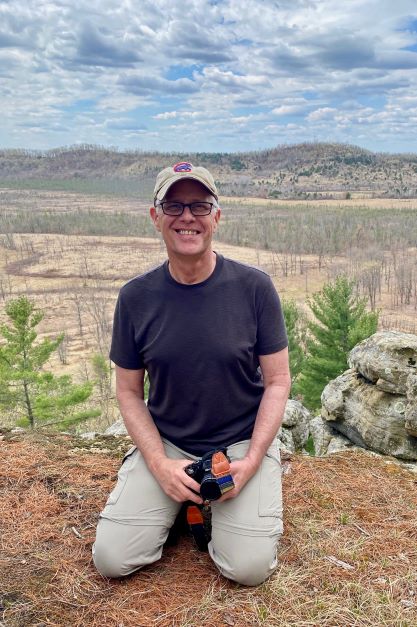 Jay Florian
Published October 24,2022
Obituary's Biography:
Jay Florian, 61, of Antioch, IL, passed away on October 18, 2022, surrounded by his loving family, at Hospice Alliance's Hospice House, in Pleasant Prairie, WI. He was born on October 28, 1960, in Libertyville, IL, completing the family of Don and Marcia Florian and older sister, Cec Florian. As a child he loved attending Avon Elementary School and spending time exploring his Highland Lake, IL, neighborhood. He attended Grayslake Community High School and Bradley University. Upon graduating he managed the family's Hainesville store, Stop N Save, then went on to become a commercial real estate appraiser.
Jay married his high school classmate and forever soulmate, Gayle Schulz Florian, on May 28, 1983. Together they loved raising their family of two daughters, Gina (Sam) LeMense and Alexi (Quinn) Asaro. Jay dedicated himself to supporting his family's endeavors, being a constant presence in the bleachers at their sporting events as well as cheering them on in their own adventures and hobbies into adulthood. He endeared himself to others with his warm smile, contagious laugh, kind and generous heart, quick wit, and whacky sense of humor. Jay helped create the kind of warm and inviting home environment that became a retreat for many of the girls' friends who often remark that the Florian house felt like a second home.
A geographer at heart, Jay read maps like books, and was always planning his next trip. He particularly loved escaping civilization on long treks, hiking and backpacking throughout the country. His passion for the outdoors and conservation led him to years of volunteering in local forest preserves as well as cultivating a native pollinator garden in his own backyard. He enthusiastically shared his love for nature through his gift for photography, winning awards in local contests as well as adding beauty to social media platforms that can often be otherwise divisive.
Jay enjoyed crafting delicious meals for the ones he loved, especially serving them out on the deck overlooking the beautiful woods and wetlands where he and Gayle chose to build their home. Music was also meaningful aspect of Jay's dynamic life, and it was typical for Jay to be soaking in nostalgic tunes as well as discovering new artists who provided the soundtrack of his days. He always looked forward to attending concerts with his family and friends.
A memorial visitation will be held on Saturday, October 29, 2022 at Strang Funeral Chapel & Crematorium 410 E. Belvidere Rd. Grayslake, IL 60030 from 1:00pm until 5:00pm with a service at 3:00pm.
In lieu of flowers, please consider donating to a GoFundMe set up to help alleviate the exorbitant medical costs for Jay's family. https://gofund.me/de87b85b
Excess funds will be used for a memorial in his honor and/or donated to Sierra Club, an environmental organization Jay was passionate about.
view for slideshow https://www.tributeslides.com/tributes/show/F9RRN84Z2WJSQSLM