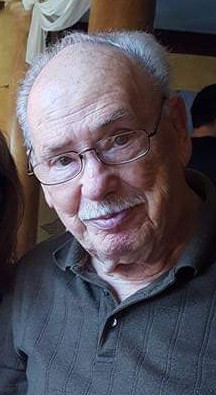 George J. Skowzgird
Published October 26,2022
Obituary's Biography:
George John Skowzgird, 90, a resident of Wauconda, passed away on October 23, 2022 at Thrive of Lake County in Mundelein, IL.  He was born on September 23, 1932 to Frances and Anton Skowzgird. George was born and raised on the southside of Chicago, and spent many summers at his stepsister's farm in Michigan.  He was a lifelong Chicago White Sox, Bulls, Arizona Cardinals (formerly Chicago Cardinals) and a die-hard Michigan Wolverines fan who never (rarely) missed a televised game.  He enjoyed fishing (or talking about it anyway), and took many trips to Wisconsin, Michigan and Canada chasing the "big one".
He had an incredible memory. Whether it be the names of celebrities and their spouses, scores of games and players names from college teams in the 1940's, or starting line-ups of baseball, basketball, or football teams over the past 70 years, he was hard to stump.
Even up to the end, he read the daily paper, literally front to back, and knew more about world events than you could imagine. From local politics, climate change, global conflicts, or the price of grapes…he was interested and up to date.
He loved to reminisce about the "old days", growing up on the city's southside where he fell in love with his wife, Alice, his time in the Air Force- having been stationed in Korea, Japan, Hawaii, Johnston Island in the Pacific, and most of all his time in Great Falls, Montana.
He enjoyed his one cup of coffee in the morning, Italian sausage or fried bologna for lunch, Neapolitan ice cream or watermelon for dessert in the evenings (not to mention an occasional "highball" cocktail when there was a party going on).
He will be missed by many, and leaves behind his children, Janet (Andrew) Warack and Ronald (Joni) Skowzgird; his daughter-in-law, Basia; his grandchildren, Krystine (Jake) Mullins, Joanne (Sean) Forbes, Michelle (Darcey De La O) Skowzgird, Andrew (Hayley) Warack, Lisa Warack, Nicole (Will) Mickelsen, and Michael Skowzgird; and his great grandchildren, Connor, Olivia, Quinn, Rory, Konrad, Rocco, Jacob, Danny, Asher, Drew. He was preceded in death by his wife, Alice (nee Weiss) Skowzgird; and his son, Richard Skowzgird.
A Funeral Mass will be held at St. Gilbert Catholic Church, 301 E. Belvidere Road, Grayslake, IL 60030 on Friday, October 28, 2022 at 12:00pm. A visitation will be held on Friday at church from 10:00am until the time of Mass. Interment will be held privately. All funeral arrangements are entrusted to Strang Funeral Chapel, 410 E. Belvidere Road, Grayslake, IL 60030. For more information, please call (847)223-8122 or visit www.StrangFuneral.org.