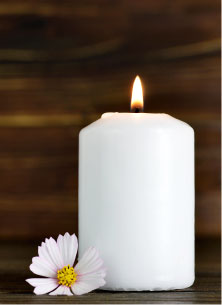 Genevieve R. Ryan
Published December 26,2017
Obituary's Biography:
Genevieve Ruth Ryan
Mom's "It's a Wonderful Life" began on September 1, 1925, at Swedish Covenant Hospital on Foster Avenue in Chicago, and ended peacefully at home, surrounded by family, in Round Lake, Illinois, on December 24, 2017. Mom grew up with her parents, Arthur and Gertrude Manning, and six siblings at 4509 North Whipple Street in Chicago. She attended Our Lady of Lourdes grade school and then Amundsen High School. After graduating, she worked in the city at several jobs including a stint as a clerk in the Palmolive Building. She married John Ryan in 1949, and several years later, with three children in tow, they moved 35 miles north to the suburb of Mundelein, where they extended their family to a total of eight children. Mom loved being a wife and mother, and raising her family. Her Catholic faith was very strong and sustained her throughout her life.
Mom was preceded in death by her husband, John Ryan; her son, Dennis Ryan; great-granddaughter Hannah Salcher; and by her parents, Arthur and Gertrude Manning; brothers Arthur and Mack Manning; and sisters Mary Lou Hildebrandt (née Manning); Frances Layde (née Manning); and Patricia Barry (née Manning).
Mom is survived by her children Kevin Ryan, Kathleen Ryan-Fox, Patrick Ryan, Maureen Snider (née Ryan), Colleen Ivins (née Ryan), Theresa Odom (née Ryan), and Sharon Mack (née Ryan). She is also survived by 20 grandchildren, 15 great-grandchildren, her loving brother, Thomas Manning, and nieces and nephews too numerous to count (really).
Visitation is from 10:00-11:00 with a funeral mass commencing at 11:00am on December 30, 2017, at St. Gilbert's Catholic Church, 301 East Belvedere Road, Grayslake, Illinois, followed by a funeral mass. In lieu of flowers, mom would appreciate donations to St. Gilbert's Women Christ Renews His Parish (CRHP) adult formation program.  All funeral arrangements were entrusted to Strang Funeral Chapel & Crematorium 410 E. Belvidere Rd. Grayslake, IL 60030.  For more information, log onto www.strangfuneral.org or call 847-223-8122.