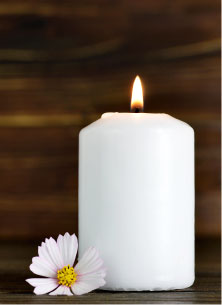 David A. Schwalbach
Published March 01,2013
Obituary's Biography:
Schwalbach, David Allen
69, passed away on February 26, 2013, in Zion, IL. He was born on February 15, 1944 in Bloomfield, NJ and grew up in Wildwood, IL, where he graduated from Warren Township High School. David joined the U.S. Marine Corps, in 1962, and served for four years. In 1970, David began his career at Schuller International/Manville Corporation, Waukegan, IL, where he worked as an industrial electrician and was very involved in the Manville Workers Union. In 1996, he began working for Ladish, in Cudahy, WI and retired in 2007. David was a long-time Waukegan resident and an avid fisherman, Chicago White Sox and Bears fan.
David is survived by his daughters, Christine Stapleton of Beach Park, IL, Laura (Jon) Stead of Lindenhurst, IL, and Elizabeth Graczyk (Steve Garofalo) of Mount Pleasant, WI; his grandchildren, Caitlin, Justin, and Camille Stapleton, Sara Stead and Gabriel Graczyk; former wife Karyn Roberts; sisters, Ellen (Tom) Maxymek, Linda (Vitale) DeNicolis, Peggy (Chuck) Spangenberg, Judy Confrey, Mary (Bob) Kingsbury, Lisa (Joe) Bigalke; brother E. J. (Sandra) Schwalbach, and many nieces and nephews.
He was preceded in death by his sister, Jeanne Cantley, and his parents Herbert and Marion Schwalbach.
Visitation will be held at Strang Funeral Chapel & Crematorium, 410 E. Belvidere Road, Grayslake, from 3 until 7 p.m. on Sunday, March 3. Funeral service will begin at 10 a.m., on Monday, March 4, at the funeral home. Interment to follow in Highland Memorial Park, Libertyville. In lieu of flowers, the family requests donations are made, in David's memory, to the American Diabetes Association, P.O. Box 11454, Alexandria, VA 22312.