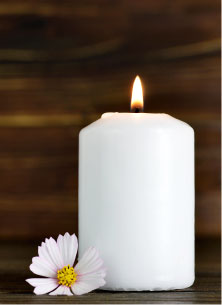 Angela Janice Mannoia-Macdonald
Published March 04,2013
Obituary's Biography:
Angela Janice Mannoia-Macdonald, 38, of Grayslake, Il, joined our loving Lord and Savior, Jesus Christ, on March 1, 2013 in Grayslake, Il.
Home Going Services will be held at Strang Funeral Chapel on Wednesday, March 6, 2013, beginning with a wake from 4 -7 p.m. The funeral service will begin promptly at 7 p.m. with Reverend Pastor Jean Franco Valdimar MDiv, ThM officiating. The interment will be private.
Angela Macdonald was born in Waukegan, Illinois to Nancy and Thomas Mannoia on March 16, 1974. She graduated from Waukegan High School in 1992. Angela went on to study at the College of Lake County. She worked as a financial services specialist for Volkswagon for many years. Angela loved baking and cake decorating. She dreamed of someday opening her own bakery.
Angela Macdonald is survived by her devoted husband, Keith, stepson, KJ, parents, Nancy and Thomas Mannoia, brother, Joe, God brother Richard, God sisters Kathy, Theresa, Beverly and Heather, Grandmother, Janice Marie Bowles, Brother-In-Law, Kevin, loving Aunts Shirley and Kathy, Uncles Melvin and Victor Sr., a host of nieces, nephews, and cousins, and her Mother-In-Law, Nancy Macdonald, who she loved immensely.
In lieu of flowers, memorial donations may be made to St. Jude's Children's Hospital at stjude.org.
The family thanks God for the many prayers and support shown during this time.