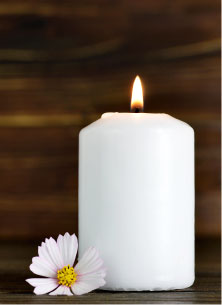 Mildred M. Miltonberger
Published January 10,2017
Obituary's Biography:
Mildred M. Miltonberger, age 83 and resident of Grayslake for over 50 years, passed away peacefully with family by her side on January 3, 2016.   Mildred was a wonderful wife, mother, grandmother and friend, always sharing an abundance of love, compassion and patience.   Those that knew her will miss her sense of humor including her ability to laugh at herself.
 Born October 10, 1933 in Chicago, IL to Stanley and Edna Hansen, Mildred graduated from Hirsh High School.  While attending a floral art school in Chicago she met a young man from Indiana, fell madly in love and coerced him into marrying her.   Soon they had their first son and moved to Grayslake where they had two more sons.  Their life in Grayslake included many years as a Cub Scout Den Mother, rowboat rides on Grayslake, 3-week summer vacations driving throughout the U.S., and innumerable Grayslake Junior High and High School sporting events.  Her grandchildren especially enjoyed the apple pies she made from the apple tree in their backyard.  She was active in the United Protestant Church of Grayslake where she met many great long-term friends.  She worked for a time at the old National grocery store on Grayslake's Center Street and later for many years at Navy Relief at the Great Lakes Naval Base.  She met dear friends at both jobs.
 Mildred is preceded in death by her parents, her loving husband of 49 years Charles Miltonberger, her son Paul Miltonberger and a multitude of well-fed beagles.
 Mildred is survived by her sister Doris Craig; son Tom (Jane) Miltonberger; son Neil (Melissa) Miltonberger; daughter in-law Joan Miltonberger; and nine adoring grandchildren, Andy, Amy, Matt, Nicole, Kendall, Lauren, Natalie, Michelle and Mark.
 A Funeral Service is scheduled for 10:00 AM, Friday January 13, 2017 at the United Protestant Church, 54 S. Whitney, Grayslake.  Interment will be held at Highland Memorial Park in Libertyville following the service.  Friends of the family may visit on Thursday, January 12 from 4:00 -8:00 PM at Strang Funeral Chapel, 410 E Belvidere Rd, Grayslake, IL 60030.   For more information please call (847) 223-8122 or visit our website at www.strangfuneral.org