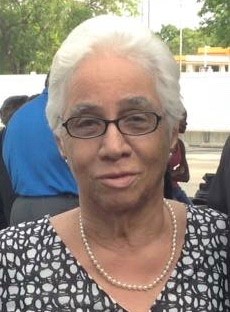 Teresa Aubain
Published January 09,2018
Obituary's Biography:
Teresa B. Aubain, 82, a resident of Round Lake, passed away Monday, January 8, 2018, at her home. She was born in Charlotte Amalie, St. Thomas, Virgin Islands on December 5, 1935.
Teresa is survived by her children Deborah (Kaj) Gotterup of Crosby, TX, Michael (Christine) Aubain of Houston, TX and Renee (Garland) Pugh of Round Lake, IL; her grandchildren Rohan (Jalissa) McKenzie of Wisconsin, Rashaun McKenzie of Round Lake, IL; Chanel Pugh of Iowa City, IA and Hannah Aubain of Houston, TX, and her great-grandchildren Ka'Maria McKenzie, Nevaeh McKenzie, Kya McKenzie, and Elijah McKenzie.
A visitation is scheduled for Saturday, January 20, 2018 from 1:00pm until 2:00pm with a funeral service commencing at 2:00pm at Strang Funeral Chapel & Crematorium 410 E. Belvidere Rd. Grayslake, IL 60030. Interment will be held privately. In lieu in of flowers, donations may be made to family for additional funeral services in St. Thomas. For more information on services, call (847) 223-8122 or log onto www.strangfuneral.org.