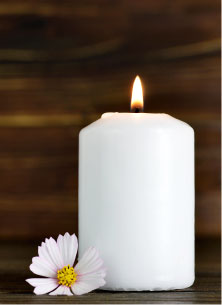 Shirley L. Klugiewicz
Published July 02,2014
Obituary's Biography:
Shirley L. Klugiewicz, 88, a longtime resident of Wildwood, passed away Monday, June 30, 2014, surrounded by family at Advocate Condell Medical Center. She was born in Chicago on May 3, 1926 to Vincent "Charlie" and Marie (Konopacky) Maday. She married Paul Klugiewicz on July 9, 1949.
During her life, Shirley was very involved in Cub Scouts and Girl Scouts. She was an active member of Saint Gilbert Church in Grayslake. Her hobbies included reading, camping, traveling, gardening, and jigsaw puzzles. Shirley enjoyed many lunches with her Birthday Club friends.
She is survived by her children Robert of Grayslake; James (Phyllis) of Kentwood, MI; Alan (Theresa) of Grayslake; Daniel (Connie) of Salem, WI; and Susan (Bruce) Dietz of Harvard. Also surviving are her brother Leroy Maday of Chicago and sister Judy Slamecka of North Riverside. Her surviving grandchildren are John (Melinda); Brianne; Sarah (Brian); Rebecca; Laura (Kirk); Peter (Kelsey); Joseph (Jacquie); David (Renee); Rosie; Samantha; and Alex. She has 8 great grandchildren and another on the way, as well as many nieces and nephews. She was preceded in death by her husband Paul, her brother-in-law Richard Slamecka, her sister-in-law Joan Maday, and her granddaughter Catherine.
Visitation will be at Strang Funeral Chapel in Grayslake on Saturday, July 5 from 9 to 10:30 a.m., followed by services at Saint Gilbert Church in Grayslake at 11 a.m., then interment at Highland Memorial Park in Libertyville.