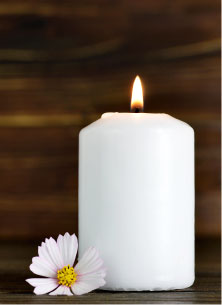 Sharon R. Bohnhoff
Published March 16,2018
Obituary's Biography:
Sharon R. Bohnhoff was born May 8th, 1932, the first of 4 children to the late Ronald & Mary Swensson. She grew up in Chicago and enjoyed being part of a group of girls who called themselves "The Jabberwockies". The "Club", as they became known, met regularly even as adults, and maintained friendships that last to this day.
Sharon worked at a variety of jobs over the years, including waitress, grocery cashier, bakery, and office worker, retiring at the age of 59 from GTE in 1992. Her most important roles, however, were those as daughter, sister, mother of three fine children (Joanne, Gwen and Andrew), and wife.
She and her husband Marvin moved to Saddlebrook Farm in Grayslake in 1992 and began to enjoy retirement. She hosted block parties in the summer, and played cards at Saddlebrook's lake house, where she met weekly for pinochle club. She was active in her parish at St. John Lutheran in Island Lake, helping with the women's guild, the banner committee, the building committee, and cooking soup for the post Lenten service dinners.
At the age of 62, she took up oil painting, going for lessons at the Mainstreet Art Center in Lake Zurich. She also took classes in Door County at The Clearing, learning techniques in shadowing, lighting, and depth. Her arduous work paid off, as some of her paintings won awards at the Lake County Fair, including a First Place and a Best of Show. Some of her works were on display at the Elk Grove Village library.
Sharon passed away Wednesday March 14, 2018, at home after a brief illness. She is survived by her children Joanne (George) Corcoran, Gwen (Robert) Erickson, and Andrew (Nancy) Zurow, sister Karen (the late Raymond) Hoeffleur, sister-in-law Lori (the late Richard) Swensson, and several grandchildren, great-grandchildren, nieces, and nephews. She was preceded in death by her husband Marvin, her parents Ronald and Mary Swensson, and her brothers Richard Swensson and Ronald L. "Larry" Swensson. A visitation is scheduled for Sunday, March 18, 2018 from 2:00pm until 6:00pm at Strang Funeral Chapel & Crematorium 410 E. Belvidere Rd. Grayslake, IL 60030. The funeral service will commence at 10:00am, Monday, March 19, 2018 at St. John Lutheran Church 405 W. St. Route 176 Island Lake, IL 60042. Interment will follow at McHenry County Memorial Park in Woodstock, IL. In lieu of flowers, donations may be made to the Woodstock VFW Post 5040 or St. John Lutheran Church in Island Lake. For more information on services, call (847) 223-8122 or log onto www.strangfuneral.org.