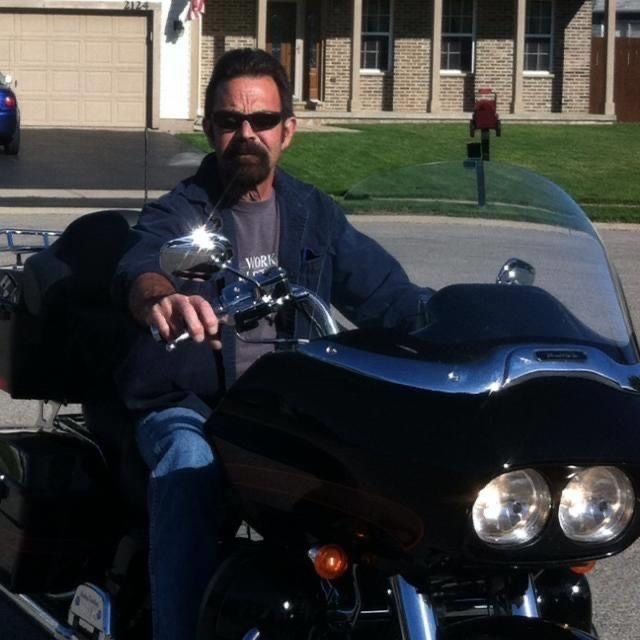 Raymond "Ray" R. Hook
Published May 14,2020
Obituary's Biography:
Raymond "Ray" Russell Hook, age 62, of Lake Villa, IL, passed into his eternal life with Jesus after a courageous battle with cancer on Wednesday, May 13, 2020, at home surrounded by his family.
Ray was born August 21, 1957 in Libertyville, IL to William and Delores (Vanderspool) Hook. He grew up and attended school in Grayslake, IL. He married Elizabeth Berg on November 18, 1988 in Indian Creek, IL. Throughout his career he worked at F&M Autoparts, Prototype Racing Engines, EH Wachs, ITW, Pure Technologies, Newman Wachs Racing and Xylem Water Solutions. He became of member through adult confirmation of Faith Ev. Lutheran Church in Antioch, IL where he served as an usher.
Ray would have loved to have you over in his impeccably clean and fully decorated garage for a cold drink and to tinker around on projects. You'd spend time learning things like: there is literally nothing that cannot be rebuilt or restored by him; a little elbow grease goes a long way; never miss an event of your kids- because Ray sure wouldn't and was his daughters' biggest fan (he was also the proudest pageant/dance/cheer dad in Lake County- and those lucky enough to see his dance moves and costume sewing skills would attest to that); great cooking requires use of every pan in the kitchen; if you're going to do something- you better do it right and make it perfect; you can never work too many hours in the day- especially if it's doing something you love; before you take your Harley on a ride with him- you better wax and clean it because his will be; and almost every motorized vehicle could be made a little faster and louder once Ray worked on it. What you'd probably learn the most from your time in the garage with him was not what he said (as we all know he was a man of few words- unless he was telling a story), but rather what he did. You'd witness something fierce about hard work, integrity, and never giving up. You'd witness what selfless love, loyalty and forgiveness look like. You'd quickly learn to never complain about anything, because no matter if Ray was injured or just went through days of chemo and radiation, he never would. You'd learn there is no project or task of a family or friend that you won't roll up your sleeve to help with in a moment's notice. You'd learn what it means to be an amazing father, husband, mentor and friend.
Ray is survived by his loving wife of 31 years, Elizabeth; daughters Aubreyanne (Ryan) Pollesch of Ripon, WI and Alicia Hook of Cedarburg, WI; sister Carolyn Dawn (Michael) Wright; brother-in-law John (Kathleen) Berg; mother-in-law Carole Berg; sister-in-law Joan Bercoon; many nieces and nephews and amazing friends who called and treated him like a brother and have become our family. He is preceded in death by his parents.
A private* funeral will be held at Trinity Evangelical Lutheran Church, 824 Wisconsin Ave, Sheboygan, WI on Saturday, May,23rd at 2:00 PM.  The service will be live streamed at:  Trinity Live Stream .  In lieu of flowers please consider making a donation to one of the following:Trinity Lutheran Church- 824 Wisconsin Ave, Sheboygan, WI 53081Faith Lutheran Church- 1275 Main St, Antioch, IL 60002The John Ritter Foundation for Aortic Health- 11901 Santa Monica Blvd #410, Los Angeles, CA 90025* Watch for current COVID-19 updates in Sheboygan County as Ray's service may become public.