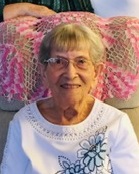 Mary (Meg) Omega Lovett
Published January 18,2020
Obituary's Biography:
Mary (Meg) Omega Lovett, 96, a resident of Grayslake, passed away Thursday, January 16, 2020 in Libertyville. She was born March 16, 1923 in Manila, AR to William and Clara (nee Lowery) Neal.
Meg married Vern in 1941 in Bernie, Mo. They moved to Illinois in 1943 where they raised five children, mainly in Round Lake. Meg was a homemaker who loved to cook, garden and can vegetables and visit with family and friends. She also worked outside the home at various jobs, but especially loved to rock and sing to all the babies. Meg will be missed by all those who were part of her long and joyful life.
Meg is survived by her children, Patricia (Edward) Warner of Grayslake, Michael (Candice) Lovett of Lake Villa, and Jo Lynn (Scott) Kust of Libertyville; grandchildren, Heather (Michael) Swider, Katie (Scott) Sparks, Emily (Modesto) Santiago, Aaron (Cassandra) Rivas, Alison (Adam) Stump, and Chad (Molly) Kust; great grandchildren, Mason Swider, Devin Swider, Mikala Lovett-Santiago, Dominic Rivas, Mary Rivas, Blake Stump, and Brooklynn Stump; great great grandchildren, Avery Swider and Olivia Swider; sister, Joye Sue Maulding; and daughter-in-law, Roberta Warren.
She was preceded in death by her husband, Vernon D. Lovett; sons, Vernon (Sonny) and Ronald Lovett and Frank Warren; her parents, William and Clara (nee Lowery) Neal; and siblings, Jesse Neal, Novella Nelson, Willa Gardner, Jean Evans, James Neal, and William L. Neal.
A visitation is scheduled for Monday, January 20, 2020 from 3:00pm until 9:00pm at Strang Funeral Chapel & Crematorium 410 E. Belvidere Rd. Grayslake, IL 60030. The funeral service is scheduled for Tuesday, January 21, 2020 at 11:00am at the funeral chapel. Interment will be held after the services at Avon Centre Cemetery in Grayslake. In lieu of flowers, please make donations to St. Jude Children's Hospital For more information please contact (847)223-8122 or log onto www.strangfuneral.org.