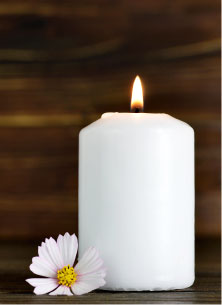 Mary M. Toussaint
Published November 20,2015
Obituary's Biography:
Mary Malley Toussaint, 101 ½ years young, of Lindenhurst, IL, formerly of Skokie, IL, passed away peacefully surrounded by family on Wednesday, November 18, 2015, at Victory Lakes Continuing Care Center. She was born on May 2, 1914, in Ithaca, New York, to Austin and Helen Malley. She was preceded in death by her beloved husband Norbert. She was the loving mother of Mary Diane Simpson, Patricia Varco, Jeanne (John) Goshgarian, Norbert (Karen Brungard) Toussaint, Sharon (Daniel) McCarthy, and Valerie (Joseph) Nathan. She was the cherished grandmother of Daniel (Anna) Simpson, Michael (Stephanie) Simpson, Marie (Tommy Kaschke) Varco, Michael Varco, Valerie Varco, Diana Varco, Andrew Goshgarian, Anne Marie (Graham Kolb) Goshgarian, Gerard Goshgarian, Laura (Justin Hong) Goshgarian, Brian (Neha Kumar) Toussaint, Rebecca (Adam) Lowenstein, Adele (Hunter Stuart) Nathan, Joanne (Andrew Denenberg) Nathan. She was the precious great-grandmother of Eloise Simpson, Charles Simpson, Joseph Kaschke-Varco, Wesley Simpson, and Nathan Lowenstein. She is also survived by a large loving family of nieces, nephews, cousins, and friends.
Mary was a proud graduate of Cornell University and held a Masters degree from Pennsylvania State University. She had a successful career with the American Dairy Council providing nutritional programs for children in the Catholic schools of the Archdiocese of Philadelphia. While raising her large family, she was an active volunteer with the Girl Scouts, Cub Scouts, her Catholic parishes, and all her children's schools. Mary was a consummate traveler. She and her husband instilled a love of travel in their children as they crossed the country on long road trips. In her later years, she enjoyed cruises and European trips with her cousin Frances.
Mary spent the last fourteen years of her life as a resident of the Village of Victory Lakes. There she made many wonderful friends and enjoyed a wide variety of activities, including volunteering at B. J. Hooper School and at Allendale, serving as a member of the Residents' Council, playing bridge, and singing with the Vocaleers.
Funeral services are planned for Monday, November 23, at St. Paul the Apostle Church, 6401 Gages Lake Road, in Gurnee, with a gathering at 9:30 am and Mass of Christian Burial at 10:30 am. This will be followed by interment at All Saints Cemetery in Des Plaines. In lieu of flowers, donations may be made to Franciscan Communities' Helping Hands Program or the charity of your choice.