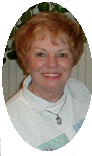 Marlene Haertle
Published June 09,2016
Obituary's Biography:
Marlene Haertle, age 79, passed away Wednesday, June 8, 2016 at her home in Grayslake, IL.  Since Richard, her husband of 48 years, passed away, Marlene loved living in her home in Saddlebrook. Marlene is survived by her three children: Dan Haertle of Washington, DC; Dave (Tammy) Haertle of Racine, WI; and Cindy Orlowski of Wauconda, IL; her brother Jack (Cher) Raduechel of Sheboygan, WI; brothers-in-law Thomas of Santa Barbara, CA and Joseph (Camilla) Haertle of Milwaukee, WI and sister-in-law Dolores Haertle of Milwaukee, WI.  She was preceded in death by her sister, JoAnn Shea and two brothers-in-law, Louis (Maxine) Haertle and Robert Haertle.
 Marlene loved every moment spent with her seven grandchildren: Erin (Ryan) Carbajal, Mark, and Greg Haertle, Tim, Kristen, Michael, and Jake Orlowski.  In addition, she loved her two great grandchildren, Micah and Manny Carbajal. She took such pride and joy in the lives of each grandchild, spending special individual time with each one. This was very important to Marlene, so she could get to know each one for the person they are.  The grandkids were very spoiled by their grandmother during their trips to Chicago, lunches, Marriott plays, baking days, and the annual fishing contests on the lake. When Marlene's grandchildren were younger, she helped their scout troops by teaching them how to make ceramics.  Christmas was also a special time for Marlene and her grandchildren because Marlene truly loved finding that special gift for each one, especially the perfect Nutcracker.
 Marlene also enjoyed playing cards and going to the casino with her many friends and neighbors.  The friends she made during her retirement years made these years some of the best of her life. The love and comradery between them, each helping the other when needed, should be an example for all.
 Relatives and friends may meet with the family at 9:00am on Saturday, June 11th at St. Mary of Annunciation (22333 W. Erhart Road, Mundelein, IL) followed by a Memorial Mass at 10:00am.  In lieu of flowers, memorials to Feed My Starving Children http://www.fmsc.org/m/donate.  Arrangements were entrusted to Strang Funeral Chapel & Crematorium, 410 East Belvidere Road, Grayslake, IL 60030.  For information, 847-223-8122 or go to www.strangfuneral.org.