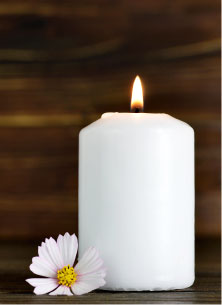 Marjorie (Marge) Carani
Published April 05,2018
Obituary's Biography:
Marjorie "Marge" Lee (Teets) Carani died peacefully in Libertyville, IL on Monday, April 2, 2018 at the age of 85.  She was born on February 22, 1933 in Farmington Missouri to Chester and Nellie Teets.  She graduated from high school in 1951 and, shortly after graduation, she relocated to Highland Park, IL where she met her husband, Robert Carani. They married in December 1953 and settled in the small town of Wildwood, IL. After losing her husband in 1979, she continued to run the family business, B&G Upholstery with her son, Robert. In 1993, she closed the family business and began to enjoy her retirement.  Over the last year, Marjorie was a resident of Victory Lakes in Lindenhurst, where she was loved, where she made new friends and became a master bingo player. Marjorie will be truly missed by all who knew her and she will never be forgotten.
Marjorie is survived by her children, Nancy Jackson, Robin Starbuck, Cindy Fallon (Donald), Robert Carani, Tonya (James) Hudson and Jo-Onyx (Robert) Henry; her grandchildren, Eric (Debbie) Eronen, Michael Carani, Marjorie Fallon, Adam Carani, Ashley Baylor, Brianna Baylor, Rhianna Hudson, Katherine Hudson, Jacklyn Carani, Jonathan Carani and Jessica Carani; her great-grandchildren Destinee and Trinitee Eronen and Lucy Carani; and her siblings, Patricia Kinglar, Clara Albert, Alta Hess, Robert Teets, William Teets, Jonell Bell, Ruby Rankin and John Teets. She is preceded in death by her husband, Robert Carani, her parents, Chester and Nellie Teets, her brother David Teets and her children, Rita Rose Carani, Kevin Carani and Sheila Marden.
A visitation is scheduled for Tuesday, April 10, 2018 from 4:00pm until 8:00pm at Strang Funeral Chapel & Crematorium, 410 E. Belvidere Road, Grayslake, IL 60030.  The funeral service will be on Wednesday, April 11, 2018 at 10:30am, also at the funeral chapel.  Interment will follow at Highland Memorial Park, 33100 North Hunt Club, Libertyville.  For information, please call 847-223-8122 or go to www.strangfuneral.org.