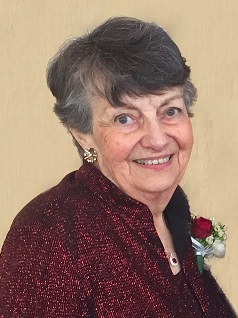 Marilyn J. Walz
Published December 14,2017
Obituary's Biography:
Marilyn Joyce Walz, 87 of Lindenhurst, IL, joined Her Lord and Savior on December 11, 2017. She is welcomed into heaven by her daughter Barbara L. Geary, Great-Grandson Lane E. Geary, son-in-law Robert J. Fox, her brother-in-law Bill Blake and her loving parents Everette and Kathryn Hook.
Born in Waukegan, IL, Marilyn lived with her adoring husband, Walter "Wally" Walz, in Lindenhurst, IL. She and Wally were elementary school sweethearts who met again later in life. They were married 18 wonderful years and enjoyed many trips together. Marilyn grew up in Grayslake, IL. She was among the 2nd graduating class of Grayslake High School and she could recite the town history for anyone that would listen. In 1952, She married Norman C. Geary, they were married for 39 years. Marilyn enjoyed working as an office secretary because she was known for her tremendous organizational and letter writing skills.
Marilyn delighted in playing a good game of Bridge. But with her teammate Wally, she found greater success in her new love of Bingo. In her quiet time, Marilyn spent hours researching her genealogy. She then would recreate her genealogy in an album for each of her children. Marilyn rejoiced in telling stories about her children, grandchildren and great-grandchildren. All of which she would find time to visit. Marilyn is survived by her siblings John (Alice) Hook and Kay Blake. She had four children: Robert (Jeanneatte) Geary of Houston, TX, Diane (Eric) Thurman of Algonquin, IL, James (Cynthia) Geary of Gulf Shores, AL, and Kathryn (Curtis) Olson of Hopkinton, MA. Nine grandchildren: Robert Jr. (Erin) Geary, Bradley (Lauren) Geary, Kimberly Christine (Greg) Lawler, Sarah Fox, Lindsey (Jacob) Hoffman, William Olson, Tyler Olson, Grant Olson and Sydney Olson; and eight living Great-Grandchildren.
A visitation is scheduled for Sunday, December 17, 2017 from 4:00pm until 6:00pm at Strang Funeral Chapel & Crematorium 410 E. Belvidere Rd. Grayslake, IL 60030. A funeral service is scheduled for Monday, December 18, 2017 at 11:00 am at THE UNITED PROTESTANT CHURCH OF GRAYSLAKE, 54 South Whitney St, Grayslake, IL 60030. Interment will be held privately at Avon Center Cemetery in Grayslake, IL. Memorial donations may be made to the Grayslake Historical Society,164 Hawley Street, P.O Box 185, Grayslake IL 60030. For information, call 847-223-8122 or visit www.strangfuneral.org