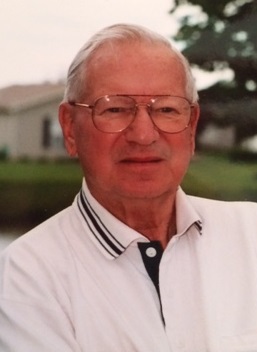 Kenneth H. Riendeau
Published September 18,2016
Obituary's Biography:
Kenneth Henry Riendeau, age 89, formerly of Rolling Meadows, IL, passed away peacefully on Thursday, September 15, 2016 at Winchester Nursing Home in Libertyville, IL.  He spent his entire career as a sales professional, primarily in the fields of communications, insurance and real estate.
He was the husband of the late Lillian Dolores Riendeau (nee Rompala), whom he married on June 26, 1954.  They celebrated their 50th wedding anniversary a few months before her passing on November 8, 2004. Their marriage was blessed with five sons and eight grandchildren.  His sons are Russell (Cheryl), Wayne (Diane), Greg, Claude (Leslie), and Gary (Melody).  His grandchildren are Danielle (Stephen), Grant, Tim (Kaylena), Ben, Nick, Elise, Justin and Jake. Ken was preceded in death by his wife Lillian and his parents, George and Helen (nee Jagodzinski).  Ken is survived by his brother, Jack (Phyllis).
Ken was born in Chicago, and he served his country in the Korean War.  Ken was also a volunteer for a variety of various civic and volunteer charitable activities, and he was a member and volunteer of St. Colette Church in Rolling Meadows for over 40 years.   Ken was a diehard sports fan of the Chicago Cubs and the Chicago Blackhawks virtually his entire life.  Ken loved playing goalie as the '6th man' in many street hockey games with his five boys, and was a constant presence at his sons' numerous sporting events over many years.
Visitation will be held on Thursday morning, September 22, from 9 am to 11 am at the old church building at St. Mary of the Annunciation Church, 22333 W. Erhart Road, Mundelein, IL 60060, which is near the corner of Fremont Center Road and Gilmer Road. The visitation will be followed by a brief service, interment on the church grounds, and a luncheon to celebrate Ken's life that will also be held at a nearby restaurant to be determined.  For more information please call Strang Funeral Chapel & Crematorium at (847)223-8122 or log onto www.strangfuneral.org.