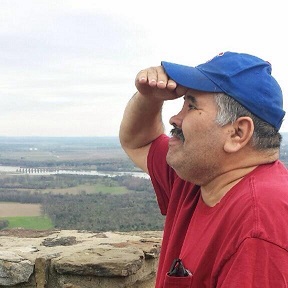 Juan F. Salinas
Published February 11,2021
Obituary's Biography:
On Wednesday February 10 2021, Juan Francisco Salinas, loving husband and devoted father to three girls, passed away at the age of 67. Juan was born in Cotulla, Texas on February 11, 1953 to Francisco and Francisca (Morin) Salinas. He moved to Round Lake, IL as a young child where he grew up.
He was married to Sharon Salinas for 30 years. He is survived by his daughters Alicia (Drew) Jahn, Katie Sue Salinas, and Kika (Jimi) Williams; and his special nephew David Salinas . Juan also leaves behind his siblings and in-laws: Olga Salinas, Terry (John) McCurley, Rudy (Roxanna) Salinas, Daniel (Gloria) Salinas, Roy (Judi) Salinas, Richard (DaLee) Salinas, Skip (Norine) Hoth, Tim (Denise) Hoth, Steve (Maricela) Hoth, Jean Slegers, Gary Hoth, George (Vickie) Farning, Tammy (Wayne) Paul, Dorine (Peter), and Scott (Sherry) Farning. Juan was also survived by his many nieces and nephews, and his grandchildren; Austin Jahn, Audrey Jahn, and Aiden Jahn. He was truly loved by so many people that the family cannot fit everyone who has touched his life. 
He was preceded in death by his parents, Francisco and Francisca Salinas; his brothers Ruben Salinas and Daniel Hoth; his sisters Kandi Lappin and Sue Hoth; and his mother-in-law Marianne (Howard) Farning.
He had a passion for fishing, DIY weekend projects, and weekend trips to Menards. He was an avid Cubs fan, lover of giant jugs of coffee creamer, as well as a geek for space adventures. Juan was best known for his giant personality, weird sense of humor, and his loving positive energy.
Due to current events, the family will be following his wishes as there will be no funeral or wake. In the summer there will be a celebration of his life. In lieu of flowers please consider donating to the American Kidney Foundation in his name.
"You were the best thing to happen to us Dad."
For more information please contact (847)223-8122 or log onto www.strangfuneral.org.