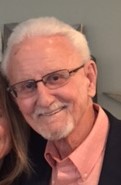 Jerome M. White
Published September 09,2021
Obituary's Biography:
Jerome "Jerry" Michael White, born March 11, 1939 in Kansas City Missouri, died peacefully at home in Grayslake, on September 5, 2021. His health has been restored and he can run free again!
Jerry is survived by his wife Jane, son George, daughter Anne Marie LeGrand and son in law Mark LeGrand and step children Jillian Tonge, Dennis Tonge, Joanne Gray, Carolyn Marshall and Suzanne Kontrimas. He was the proud grandfather of Cassidy and Perri LeGrand and a happy step granddad to Drew Stegmeier, Ryan Tonge, Carolyn Tonge, Luis Tonge, Madison Hartwig and Kyle Marshall. Five great grand kids filled out the Christmas shopping list.
Jerry was raised in Colorado and returned to the Rocky Mountains later in life. He lived for his family and golf. Golf was his singular passion and at one time he played in several golf leagues at the same time. His only Hole In One happened at a course in Clearwater, FL.
He followed the rules during his younger years and enjoyed mischief as he got older. He traveled from one coast to the other in a large Winnebago motorhome. Some trips lasted almost a year!
Jerry's life will be celebrated at St. Mary of the Annunciation on Saturday, Oct.2, 2021. All funeral arrangements were entrusted to Strang Funeral Chapel & Crematorium 410 E. Belvidere Rd. Grayslake, IL 60030. For more information please contact (847)223-8122 or log onto www.strangfuneral.org.