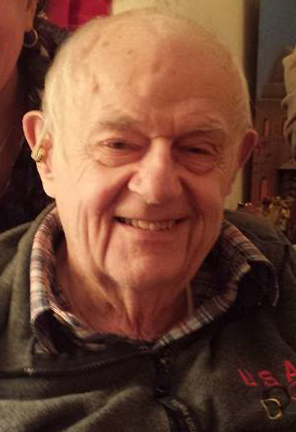 Howard R. Steuer
Published January 02,2015
Obituary's Biography:
Steuer, Howard R. "Howie" of Milwaukee, was born into eternal life on January 1, 2015, at the age of 83.
Loving husband of Alice for 62 years. Devoted dad of Mark (Martha) Steuer, Ellen (Lee) Roth, Peter Steuer, Phil (Antoinette) Steuer, Monica (Mike) Peavy, Neil (Barb) Steuer, Diane (Bill) Verkuilen, Lorraine Krueger, and Andy (Marcie) Steuer. Dear brother of Katy Steuer and Janet Fumuso. Proud grandpa of Ian Steuer, Emily Steuer, Nicole Roth, Natalie Roth, Dawn (Aaron) Wagner, Daniel Steuer, Amy Peavy, Katy (Luke) Walker, Doug (Molly) Peavy, Joe Steuer, Mikayla Steuer, Elizabeth Verkuilen, Mary Verkuilen and Caden Krueger; and dear great grandpa of Tristan, Graham, and Malachi. Survived by many dear relatives and friends both near and far. Preceded in death by his parents George and Leone Steuer; and siblings Bob, Don, Dick, George, Paul and Marge.
Howie was such a loving and caring person. He loved spending time with his family and friends. Howie was a joy to be around and had a contagious smile that lit up the room making you feel loved and welcome. He enjoyed playing cribbage and chess against anyone who was brave enough to take him on. Howie was proud to be a tool and diemaker for 38 years and was a very talented woodworker and carver. He was an avid nature lover and his favorite place for peace and tranquility was Lost Lake in the Nicolet Forest.
Visitation will be held on Saturday, January 17, 2015 at Our Lady of Lourdes Catholic Church (3722 S. 58th St, Milwaukee) at 9:30 am until the service begins at 11 am. Luncheon to follow.