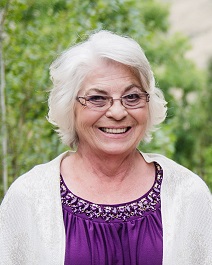 Emoke I. Wallace
Published February 22,2021
Obituary's Biography:
Emöke Irén Wallace (Pavel) of Round Lake Beach formerly of Palatine, Illinois, loving mother of two daughters and grandmother of four granddaughters, passed away peacefully at home on February 16, 2021 at the age of 73.
Emöke's parents Laszlo and Agnes (Pokorny) Pavel fled their homeland of Hungary during World War II. They lived in a refugee camp for several years in Landshut, Germany. Emöke was born a preemie in Landshut on May 21, 1947 as the second of six children. She was a born fighter and her tenacious spirit carried on throughout her life. When she was almost two years old, the family immigrated to Sao Paulo, Brazil. Emöke had fond memories of her time in Brazil, especially of the friendships she made. In 1959 the family finally reached the United States, eventually settling in Palatine, Illinois.
Emöke was a mother with a golden heart and open mind. She was always supportive of her daughters, Maria and Katherine. She was fiercely protective, generously involved, and had a whimsical, playful spirit. From card games to board games, there wasn't an opportunity she passed by, and the world is greater for it. She also loved having fun with her friends, and on Friday nights, could often be found playing bingo or crocheting homemade blankets.
As a very proud grandma, Emöke adored her grandchildren. She loved treating them to ice cream and giving them "sussies" (little thoughtful gifts). Family was her very foundation and Emöke always put the needs of others before her own. She was a devoted daughter and sister. She cherished all of her siblings and prayed for each of them by name, daily. Emöke had a close bond with her mother, Agnes, and devotedly helped to care for her in her final years.
Emöke spoke fluent Hungarian and was very proud of her heritage. She loved to hear how her family in Szombathely and Budapest were doing. Light of heart and soul, she delighted in all of the events and accomplishments of her family, whether day-to-day or special occasions.
Emöke is preceded in death by her father Laszlo, her mother Agnes, her aunt Nora and her sister-in-law Kim Pavel. She is survived by her children Maria Mathews (Ben) and Katherine Delgadillo (Art), her grandchildren: Jackie Malinowski (Derek), Megan Mathews, Ava Delgadillo, and Sofia Delgadillo, her five siblings: Agnes Lorincz (Stefan), Laszlo Pavel (Mary), Peter Pavel, Adam Pavel (Laura), Dan Pavel (Nicole) as well as many nieces, nephews, cousins, extended family and friends in both the United States and Hungary.
All are welcome to celebrate Emöke's life at a socially distanced memorial service on Saturday, March 6th, at The Chapel (25270 IL-60, Grayslake, IL 60030). Doors open at 10 AM, service begins at 11 AM. In lieu of flowers, donations may be made to Westlake Christian Academy (275 S. Lake Street, Grayslake, IL 60030 www.westlakechristian.org). All funeral arrangements were entrusted to Strang Funeral Chapel & Crematorium 410 E. Belvidere Rd. Grayslake, IL 60030. For more information please contact (847)223-8122 or log onto ww.strangfuneral.org.