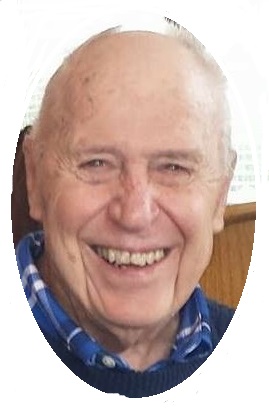 Edwin L. Hall Jr.
Published February 24,2017
Obituary's Biography:
Edwin Lawrence Hall, Jr.,  age 92, of Grayslake, IL, passed away peacefully at his home on February 23, 2017. Ed was born to Edwin Sr. and Maude Hall in Grayslake, IL on January 16, 1925. As the oldest of three siblings, he grew up in the Grayslake area and graduated from Warren High School in 1943.  In 1944, he enlisted in the Marine Corps and left for service to his country. Upon his honorable discharge from the military, he began his business career at Fansteel, Inc. Shortly thereafter, Ed began working with his father in the family business, Hall's Food Mart. However, his career truly started when he, his brother Bill, and good friend Ed Bauer opened up Parkway Foods in 1961 in downtown Grayslake. The business became a staple of the town and was a very successful grocery store and catering company. To this day, people remember the location of Parkway Foods. It truly left a mark on the entire town, and Ed was known to be a dedicated owner and the cleanest grocer in the state of Illinois!  He was also committed to the town of Grayslake being an active member on the Chamber of Commerce and serving on the Board at the Bank, ultimately becoming the  President of Grayslake National Bank. He was respected by all who knew him, and his optimism and laughter were contagious.  Ed married his high school sweetheart, Audrey Duell, on November 24, 1944, and their marriage resulted in the birth of six children (Cheryl, Susan, Kathryn, Jennifer, Cynthia, and Kenneth). He later married Barbara Wurl and became stepfather to her son, John.  After her death, he met and developed a long relationship with Linda Devine. He is preceded in death by his parents, his wife Barbara, his sister Margaret Hagglund, his daughter Susan Dobson, and his grandson Ryan Fitzpatrick. He is survived by his partner Linda, his brother William Hall (Katy), his five children, his stepson, nine grandchildren, and 17 great grandchildren. Visitation will be at Strang Funeral Chapel & Crematorium 410 E. Belvidere Rd. Grayslake, IL 60030 on Sunday, February 26th from 3:00 pm-7:00 pm with a service at 7:00. In lieu of flowers, please make a donation to Advocate Hospice.  For more information please contact (847)223-8122 or log onto www.strangfuneral.org.