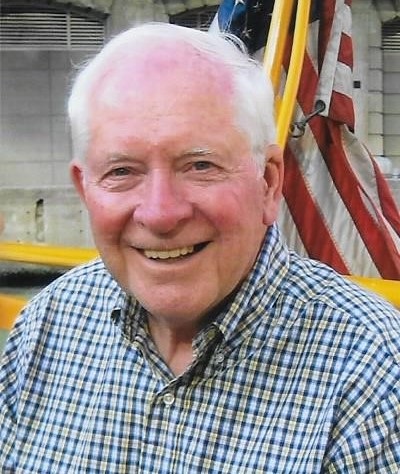 Edward Linskey
Published March 19,2021
Obituary's Biography:
Our dad read "the obits" every day because he knew that life should be honored, every person has a story and he would want his told.
His story began October 7, 1930. Born in Chicago to parents Edward and Margaret (Hughes), brother Patrick arrived 5 years later. Attended St. Hilary grade school, Niles Township High School and St. Joseph (IN) College, where he played football. He proudly served as an officer in the United States Marine Corps from 1952-1956. He had a career in sales and marketing for many years. Most important, he married the love of his life and high school sweetheart Barbara Kokum in 1955 and they began a lifetime journey together, which started in California, took them travelling around the world and remain rooted in Mt. Prospect.
He was known and admired for his lively conversation. If the topic was family, food, sports, history, travel or politics it could go on forever. His sharp wit and sense of humor kept it light. Affectionately known as "Hoppy" to his grandchildren, he loved to engage them and learn about their worlds while regaling them with stories about his. He was a man of good character, good intentions and good deeds.
His story will be carried on by the many who love him and will dearly miss him, including: Barbara, his cherished wife of 65 years, daughters Dr. Gail (Dr. Richard) Rosseau, Kay (Kevin) Slawin, Diane (Mark) Hauser, and Margaret Linskey (Joel Hendrickson). Grandchildren Elizabeth (Neil) Trainor, Laura (Ryan) Johnson, Ryan Slawin (fiancé Nikki Merz), Natalie and Brendan Rosseau, Sam and Andrew Hauser, Madelyn Jones and great-granddaughter Celeste Trainor.
If you are inclined to honor his memory, please visit honorflightchicago.org or st-raymond.org
Arrangements were entrusted to Strang Funeral Chapel.  Please log onto www.strangfuneral.org or contact (847)223-8122 for more information.
To view the funeral on livestream please use the provided link. https://www.twitch.tv/strayprivate