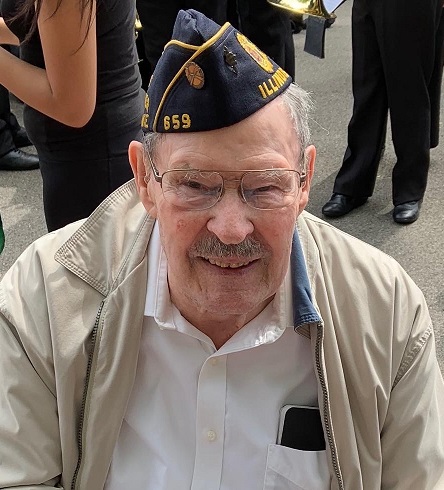 Douglas A. Rockenbach
Published August 06,2021
Obituary's Biography:
Douglas A Rockenbach, long time resident of Grayslake , Il passed away peacefully August 4, 2021 in Lake Forest, Il. Born on March 28, 1925 , he was 96 years young. Doug was preceded in death by his beloved wife Bonnie (2016), his cherished son Gary (1995), and his older sister Marjorie Rasmussen (2021).  He is survived by his oldest son Gregg (Marlene),his daughter Gail (John)Vitols, his granddaughter Stephanie Ponce and his three great great grandsons, Presley, Payton, and Memphis. 
He was born and raised in Grayslake, Il.  After graduating from Warren Township high school in June of 1943, he was drafted into the US Army. He saw action as a combat engineer, in North Africa, Italy, France, Belgium and ended his duty near Munich Germany.  After returning home from service,  he married his high school sweetheart Bonnie Winters. They built their dream home on Westerfield Place where they resided for over 70 years and lived and loved the American dream. Doug was a true gentleman whose word was his bond.  A thoughtful and generous man, he also quietly lent a helping hand to many who needed assistance. Doug was also very active in community organizations, including the Lake County Easter Seal Society as chairman and board member and Commander of the Grayslake American Legion Post 659.  Douglas was owner of Rockenbach Chevrolet, founded in 1925,  for over 50 years. Over the years he built the dealership into a powerhouse. The Megastore, as it was often called, was a sales leader for Chevrolet in the Chicago market for many years.  His industry achievements include Time Magazine Quality Dealer of the Year, four-time General Motors Dealer of the year, Chairman of the Illinois Auto Dealers Association, and President of the Chicago and Northwest Indiana Chevy Dealers Advertising Association.  One highlight of his time as president of the advertising association was signing Michael Jordan to his first contract as spokesperson for the Chevy dealers and was in studio during Michael's first commercial shoot.  He leaves a lifetime of fond memories for all who knew him. Doug will also be honored later this month as a Grayslake history maker by the Grayslake History Museum. He is the first individual to be so honored. A life well lived.
Funeral arrangements were held privately and entrusted to Strang Funeral Chapel & Crematorium 410 E. Belvidere Rd. Grayslake, IL . A celebration of life will be scheduled in the coming weeks.  Remembrance donations can be sent to The Grayslake Historical society or to A Cure In Sight, an organization that supports the ocular melanoma community. Web address:  acureinsight.org. For more information please contact (847)223-8122 or visit www.strangfuneral.org.