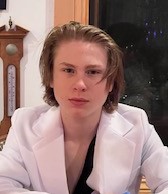 Dennis E. Shireman
Published April 07,2023
Obituary's Biography:
Dennis Eaton Shireman was an amazing son, grandson, brother, nephew, cousin and friend, and it is with profound sadness that the family announces he passed away suddenly on April 4, 2023, at the age of 15.
Dennis was born October 2, 2007 in Lake County Illinois to Herschell and Denise (Eaton) Shireman. Dennis is survived by his parents, sisters, Nadiah and Nevaeh, brother, Herschell Jr., grandmothers Theresa Shireman and Julianne Eaton, and a large extended family of aunts, uncles and cousins who love him more than words can begin to express.
Dennis was a student in the Big Hollow Elementary and Grant Community High School districts.
In his short life, Dennis' personality shined with an intense light! Anyone who had the honor of being close to him, appreciated his uniqueness, he just had a way about him that infused into your heart. He was an active young man with an amazing imagination that spilled into his varied interests and hobbies. He loved music, video games and movies like any boy his age, but he also had a depth and breadth to his soul that was far less common. He loved his hat and boot collections, old school country music, whittling, and of course spending time with his huge family.
Dennis loved when family gathered, usually around food and beverages, sometimes playing Piute, a Portuguese poker card game, sometime sitting on the pontoon boat catching sun and waves. Dennis was quick to jump in and help with chores, do crafts, cook, play games with young and old alike. Dennis was always in the thick of it.
Dennis was preceded in death by his maternal grandfather and namesake, Papa Dennis (Eaton), and his paternal great aunt, Irene Kreiling.
Memorial visitation will be held from 3:00pm until 7:00pm Wednesday, April 12,2023 at the Strang Funeral Chapel, 410 E Belvidere Rd, Grayslake, IL 60030. The funeral service will be held privately. Interment will be held at Avon Cemetery, 21300 W Shorewood Rd, Grayslake, IL 60030.
Dennis, "D", "Heavy D" we will always treasure the time we had with you. 
To view the slideshow click here: https://www.tributeslides.com/tributes/show/F4DC32GKPPDTTF67