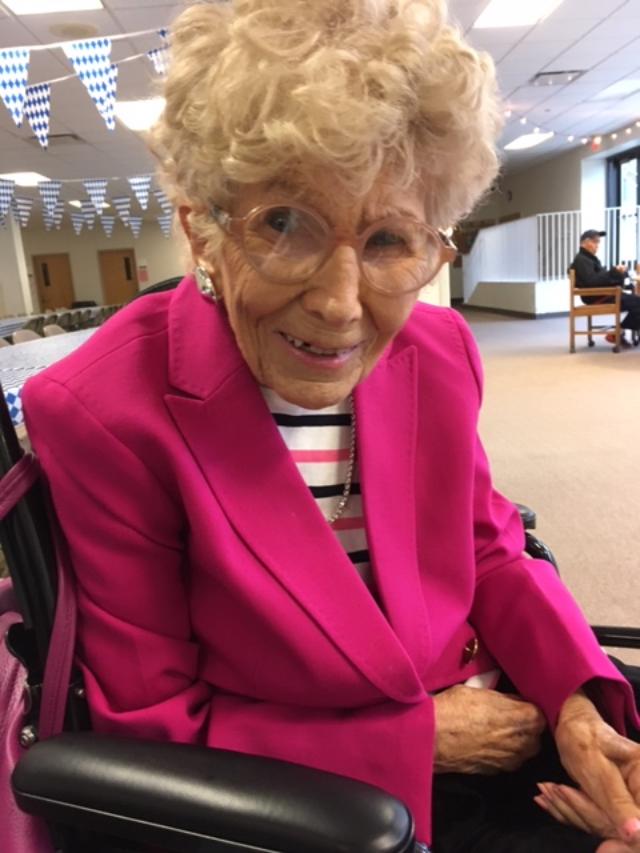 Delores M. Costello
Published December 16,2019
Obituary's Biography:
Delores (Dee) M. Costello passed away peacefully at her beloved home on December 13, 2019.
Dee was predeceased by her beloved husband, Paul J. Costello (PJ), and her significant other Richard (Dick) Rollins. She was also long predeceased by her parents Elmer and Florence Gardt, her brothers Jack and Paul Gardt, and her sisters Maxine and Jacqueline Gardt, all of Fort Wayne, Indiana. Dee was the proud mother of Patrick J. Costello and adored her almost-children Kim and Jim Rollins, their sons and family, all of the Pawlak family, the twins, Emma and James Reilly, and her personal assistants Jennifer, T'Angela, D'Esther, Christine, Irene, and dancing Toni.
Dee was born on March 22, 1927, in Fort Wayne, Indiana, and attended Northside High School where she was a baton twirler, majorette, and on the women's basketball team [that lost 22-2 [(with Dee scoring the only two points)]. After turning 18, Dee moved to St. Louis where she was employed by the Department of Defense (DoD) as a stenographer secretary. In St. Louis, she met her future husband, PJ, and they married soon after in 1946. She became an Army officer's wife for the rest of her life and followed her husband to bases and assignments all over the world – Fort Harrison, Fort Hamilton, Fort Dix, Fort Wadsworth, Fort Hood, Fort Sheridan, the Occupation Zone of Japan, The Presidio of San Francisco, Reno, Washington, DC, Phoenix, Indianapolis, Chicago, and finally Lake Forest, Illinois. She never complained when she moved as she always looked at the change as a new adventure despite living out of boxes for years and years.
Dee proudly worked as an Executive Secretary for the DoD, the Department of the Army, Imcera and Mallinckrodt Pharmaceuticals, and finally Abbott Pharmaceutical, finally retiring when she turned 75. She was a devoted worker who loved her many jobs and bosses, and many the day saw her bringing work, along with typewriter and files, home because she wanted things to be perfect and "just so" for her bosses.
After PJ passed in 1978, Dee was involved with the Lake Forest WAND group and eventually started going out with the girls, dancing the night away at the Chevy Chase Country Club and downtown Chicago. She also returned to playing bridge, golf, and tennis. She was always exploring new horizons. She was a proud member and former officer of the Antioch Women's Club.
Dee traveled the world visiting family and friends, and going on adventures with Club Med in the Caribbean and Mexico. She marveled at tea the Ritz in London and loved overseas travels with PJ and Dick, and having adventures with her friends (and son), including trips to Maui, Edinburgh, Williamsburg, Tokyo, Coral Gables, New York City, Carmel, and her much beloved Fort Myers Beach, Florida. Dee could shop in any language and she always just loved sitting on the beach or by a pool and getting the sun (and having a pina colada or diet coke).
Wherever she went, Dee was always glamorous and elegant. Later in life, she could even wear sweats and look amazing and "put together". She loved dressing up, wearing earrings, having her hair and nails done each week, and up to her 80s, she wore three to four inch heels – she could make them click on the hard wood and could twirl like crazy on the dance floor. There was no challenge that she wouldn't take on.
Dee was a good friend – a bright light – to many and especially treasured Gerry and Chuck Suhling, Kim and Jim Rollins, Sean and Kate Reilly (and the twins), Dr. Mark Rudberg (her miracle worker), and her long-time neighbors. She loved sports, especially the Bears, the Bulls, the Blackhawks, the Cardinals/Yankees, and Notre Dame, and was always watching games while doing her ironing. She loved the boys especially the guys of the Washington Irish rugby team and she would flirt into her 90s even when she was in a chair. Although she had suffered a debilitating stroke five years ago, Dee battled back when the doctors gave her little chance of recovery. She showed them what a determined, feisty, and loving spirit could do.
Dee was known to host parties at her house – her home that she built and bought – and was always having bridge parties, football parties, holiday functions, and simple get-togethers. If there were only four people coming, it was too few, and she always made her guests feel as though they were the most important guest in her home. If it meant that she could be surrounded by friends, laughing, playing bridge or poker, betting on the horses, or bowling or golfing, she was going to do it. The word "no" was not in her vocabulary. Later in life, she loved having a pina colada on the beach or lifting up a glass of champagne or even having a pint of Guinness on St. Patrick's Day, and she was never one to miss a party or event.
Dee would be pleased to know you stopped for a moment to think of her the next time you spend the day on the links, shuffle the cards, open a bottle of champagne, or gather with friends and family for a party – knowing she will always be with you in spirit.
Visitation will be at the Strang Funeral Chapel, 410 E. Belvidere Road, Grayslake, on Thursday, 19 December, from 4:00 pm to 8:00 pm, with services at the funeral home on Friday, 20 December, at 11:00 am. Burial will follow at Fort Sheridan Post Cemetery in Highwood. In lieu of flowers, memorials may be made to Ronald McDonald House.

To leave an online condolence, please visit www.strangfuneral.org. For information, please call 847-223-8122.