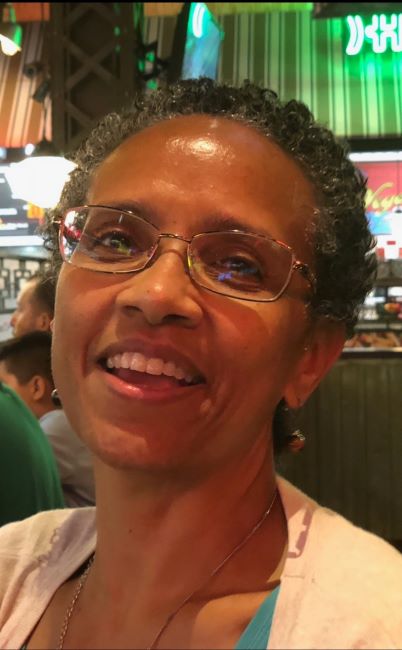 Deborah E. Mitchell
Published May 06,2022
Obituary's Biography:
Deborah E. Mitchell, 64, a resident of Grayslake, IL, passed away April 20, 2022 at her home. She was born November 7, 1957 in Chicago, IL.

Deborah is a God trusting, people Loving, caring, compassionate, giving Wife, Mother, Sibling, and Friend. Always forgiving, extending Grace, and looking to bring out the best in her Family and everyone around her. Family, after God; was very important to her. She believes the best in others, and always encouraged others to be their best. She always helped people to see themselves as more than they thought they were. She made you feel important and powerful like when you were down, you can get up and make it through. Her soft Spirit and Gentle ways will continue to watch over all whom she cared for. When you think you are struggling with life's issues quiet yourselves, listen carefully, you may hear her soft voice saying; " you can do this " for she truly believed you could.

Deborah is survived by her husband of 46 years, Antonio Mitchell, her mother and father Jacqueline and Luther Walker II, her children Cherreese Mitchell, Christopher (Christina) Mitchell, and Baron Mitchell, her grandchildren Vanessa Castillo, Julian Castillo, Kalyiah Mitchell, Aolani Mitchell, Raiden Mitchell, and Amari Montemayor, her great-niece Jasmine Basurto, and her siblings Gregory Walker, Luther Steven Walker, Cynthia Walker, Jeffery Walker, Angie Walker Lamont, Benjamin Walker, Michael Walker, Pierre Williams. and Marvin Thompson.

A celebration of life will be held on Friday, May 20, 2022 from 1:00pm until 4:00pm with visitation from 1-3pm and the service at 3:00pm to 4:00pm, at The Chapel 1200 American Way Libertyville, IL 60048.
All arrangements were entrusted to Strang Funeral Chapel, 410 E. Belvidere Road, Grayslake, IL 60030. For more information, please call (847)223-8122 or visit www.StrangFuneral.org.