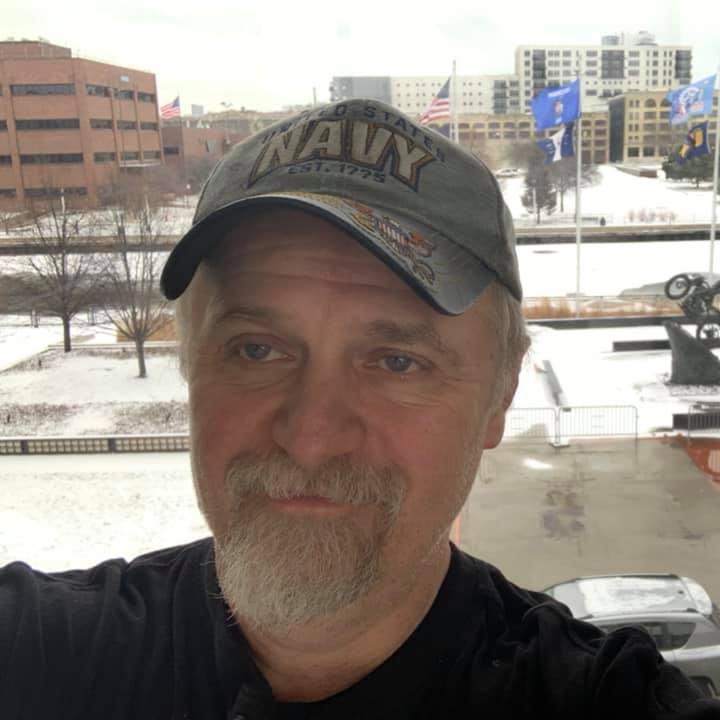 Dean C. Kehr
Published August 08,2023
Obituary's Biography:
Dean C. Kehr, age 61, a resident of Lindenhurst, IL, passed away on August 5, 2023, at Advocate Condell Medical Center in Libertyville, IL, after suffering from cardiac arrest. He was born on March 1, 1962, in West Allis, Wisconsin, to Calvin D.F. and Annarose Kehr.
Dean is a retired United States Navy Chief Hospital Corpsman with two primary specialties; Surface Force Independent Duty Corpsman and Medical Field Service Technician. Dean was a combat veteran deployed to Kuwait during Operation Desert Storm and Operation Deep Freeze. He has numerous medals and citations; Kuwait Liberation Medal (Kuwait), Kuwait Liberation Medal (Saudi Arabia), Southwest Asia Service Ribbon, Enlisted Surface Warfare Specialist, Enlisted Aviation Warfare Specialist, Antarctica Service Medal, Armed Forces Expeditionary Medal, and Combat Action Ribbon. Dean loved guiding the young corpsman in providing quality medical care. His most memorable duty stations were Okinawa, Japan; Antarctica; San Diego, CA; and two tours at Great Lakes, IL, where he met his wife, Dale.
He fell in love with sports and started to officiate when he was in Antarctica and continued when he got transferred to Great Lakes, IL, 25 years ago. Dean was an official for football, basketball, softball, baseball, and lacrosse for men and women of all ages. He traveled all over Illinois and Wisconsin, did tournaments in South Bend, Indiana, and went to Cooperstown, NY, a few times to help local teams.
Dean was also active in Cub Scout Pack 624 of Great Lakes Naval Station as a Cub Master when his sons were young and then went on to support the local Boy Scout Troop 96 out of St. Gilbert. Dean believed in youth programs and would offer his time to Special Olympics as an official. Once he retired from the Navy, he worked in the North Chicago Schools as a Substitute teacher and a Paraprofessional. He eventually returned to work with military medicine, first at the old Navy Hospital and recently at the James A. Lovell Healthcare Center, where he worked as Advanced Medical Support Associate, Occupational Health Technician, and Supervisory Medical Support Assistant.
Dean is survived by his wife, Dale Patricia Kehr of 36 years, whom he married on May 16, 1987, in Framingham, MA; his children, Sean P.C. Kehr of Ft. Meade, MD, Scott D. Kehr of Madison, WI, and Symantha P. Kehr of Chicago, IL; his siblings, Leann (Marcus) Harwitz, Janice (John) Thorgersen, David (Emilie Garth) Kehr, Junann (Greg) Heinen; and his niece, Sonja (Eddie Conlon) Thorgersen. He was preceded in death by his parents.
 A visitation will be held at Strang Funeral Chapel, 410 E. Belvidere Road, Grayslake, IL 60030, on Friday, August 11, 2023, from 4:30 pm until 8:30 pm. A Funeral Mass will be held at St. Gilbert Catholic Church, 301 E Belvidere Road, Grayslake, IL 60030, on Saturday, August 12, 2023, at 10 am. Interment will be held privately. In lieu of flowers, memorial contributions may be made in Dean's name to St. Jude, Wounded Warriors, Asperitech, American Heart Association, Special Olympics, or an organization of your choice, as giving back was in his nature. For more information, please call (847)223-8122 or visit www.StrangFuneral.org
To view slideshow click here: https://www.tributeslides.com/tributes/show/CQ594Q587NZXJ2DB