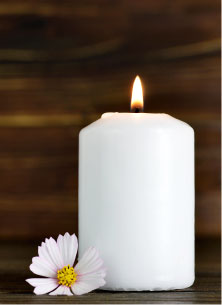 Charlene Rockenbach
Published August 01,2017
Obituary's Biography:
Charlene L. Rockenbach (nee Wray), 90, a resident of Grayslake, passed away August 1, 2017.  She was born August 19, 1926 in Waukegan to Charles and Irene Wray (nee Bacigalupo). Charlene loved being a nurse.  She was a member of the United Protestant Church of Grayslake, belonged to the Daughters of the American Revolution and loved traveling in the family RV.  Charlene was a loving wife, mother, and grandmother.
Charlene is survived by her children, Jean Topping of Alabama, Sally Kelly of Illinois, Laura Behrensmeier of Illinois; her stepchildren, Pam (Charles) Relitz, Dennis (Jean) Rockenbach; 12 grandchildren; 13 great grandchildren; sister, Joanne Lawrence of Illinois; and many nieces and nephews.  She is preceded in death by her parents; her 1st husband, William Behrensmeier; 2nd husband, Raymond Rockenbach; sister, Beverly Strauss.
A visitation is scheduled for Monday, August 7, 2017 from 10:00am until 11:00am with service commencing at 11:00am at THE UNITED PROTESTANT CHURCH OF GRAYSLAKE, 54 South Whitney St, Grayslake, IL 60030 with Rev. Orrell C. Ruth officiating.  Interment will be held privately at Avon Center Cemetery in Grayslake, IL. In lieu of flowers, donations may be made to The United Protestant Church of Grayslake.
All arrangements were entrusted to Strang Funeral Chapel & Crematorium, 410 East Belvidere Road, Grayslake.  For information, call 847-223-8122.