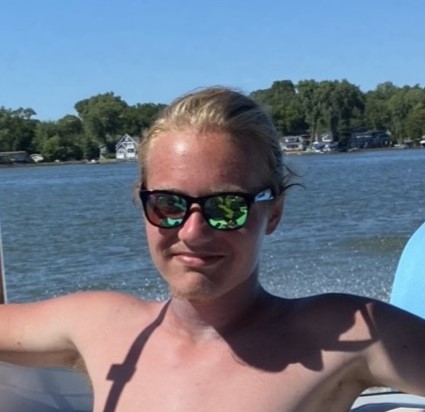 Chad A. Greenenwald
Published October 08,2023
Obituary's Biography:
Chad Anthony Greenenwald, age 17, a resident of Fox Lake passed away unexpectedly on Wednesday, October 4th, 2023. Chad was a senior at Grant High School. Chad was an amazing young man whose heart was bigger than life and he would give anyone the shirt off his back if they asked. Family was everything to Chad, he loved and respected his Nana and Gramma. He enjoyed spending as much time as possible with family, whether on a night watching movies, family vacations, or celebrating a family milestone. He loved gaming, fishing, and exploring the mountains in Tennessee. Chad was a peace maker, always trying to diffuse any situation and with laughter and jokes. He was very soft spoken, yet his beautiful smile would light up a room and brighten anyone's mood. Chad touched many lives in his short number of years, anyone who spent even the smallest amount of time with him came to appreciate his gentle and loving nature. Chad's passing will leave a large hole in the hearts of his family, friends, and all those who he touched.
Chad is survived by his grandmothers, Nana Donna Stockero of Fox Lake, and Granmma Gail Gibson of Ingleside; his siblings, Parker Salem, Prestyn Salem, and Sophia Greenenwald; his aunts and uncles, Angela Pappas, Milisa (Scott) O'Sullivan, Nicki (Bill) Hunt, Toni (Bobby) Barycki, Aidan Stockero, Scott (Melissa) Greenenwald, Len (Briana) Mondray-Mesick, Matt Greenenwald, and Tiffani Greenenwald; his cousins, Haley, Adelynn, and Bryce Pappas, Elizabeth, Isaiah, Elijah Collins, Maggie, Dani, and Brenton O'Sullivan, Austyn, Brandon, and Whisper Hunt, Anthony, Riley, and Lester Barycki, Cheyenne, Hateya, and Talise Greenenwald, Megan, Heather, Colt, Trystan, Dylen Greenenwald, Madison Greenenwald, Jeramy and Joseph Morgan; Onnie, KC, and JR Mondray, and his beloved cat, Mittens.
Chad was preceded in death by his parents, Samantha Joy Stockero and Justin Lucas Greenenwald; his grandfathers, Anthony Stockero and Steven Greenenwald; his uncle, Ron Hunt; and his cousin Keely O'Sullivan.
A visitation will be held at Strang Funeral Chapel, 410 E Belvidere Road, Grayslake, IL 60030 on Wednesday, October 11, 2023 from 3pm until 9pm, a time of remembrance and sharing of memories will be held at 8pm. A funeral service will be held on at Strang Funeral Chapel, 410 E Belvidere Road, Grayslake, IL 60030 on Thursday, October 12, 2023 at 11am.  Interment will be held at Grant Township Cemetery.   In lieu of flowers, please make a donation to https://www.gofundme.com/f/chad-greenenwald  For more information, please call (847)223-8122 or visit www.StrangFuneral.org.