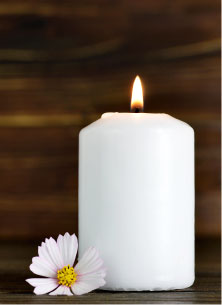 Carole Kathryn Koykkari
Published January 21,2018
Obituary's Biography:
Carole Kathryn Koykarri, 81, a resident of Fox Lake, passed away Thursday, January 18, 2018, at her home. She was born in June of 1936 in Aurora to Earl and Ceclia Leighty.
Carole is survived by her children Ryan (Margaret) Pendergast of Antioch and Michael Pendergast of Tacoma, WA; her grandchildren Dan Pendergast of Trevor, WI, Kevin Pendergast of Lindenhurst, Kelly (Michael) Jandl of Racine, WI, Danielle Pendergast of Syracuse, NY and Michelle Pendergast of Annadale-on-Hudson, NY. She was preceded in death by her husband, Neil Koykkari; sister, Lois Bay; and her parents.
A visitation is scheduled for Saturday, January 27, 2018 from 10:00am until 12:00pm at Strang Funeral Chapel & Crematorium 410 E. Belvidere Rd. Grayslake, IL 60030. Interment will be held privately. In lieu of flowers, donations may be made to animal education and Rescue in Libertyville www.aear.org. For more information on services, call (847) 223-8122 or log onto www.strangfuneral.org.