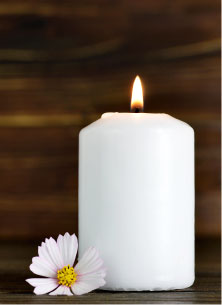 Bob Jarvis
Published November 15,2017
Obituary's Biography: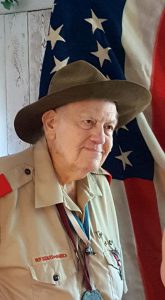 Bob Jarvis (91) was born in Cincinnati, Ohio in 1926. He always shared how he had lived in 7 states and in 18 houses before he was 18 but finally settled in Wildwood, IL at a place he called "Home" with his wife of 64 years.
Our dad was the Anchor in our family and left us with a true legacy of Faith, Love and Devotion. We watched our father tirelessly take care of his wife as she battled Alzheimer's, sitting by her bedside reading her journal aloud to her of their travels to all 50 states and 27 foreign countries. Our father faithfully and patiently sat beside her, holding her hand until she finally succumbed to Alzheimer's in 2015.
Bob loved to travel and enjoyed the outdoors as well as the cabin that they owned in the Northwoods of WI. Bob helped with the Boy Scouts and was active in Scouting for over 70 years. He served as a Scout Master and as an Assistant Scout Master to the Wildwood, IL Boy Scout Troop. Bob obtained the highest rank of Eagle Scout and was awarded a special Whitney Award and was also awarded a Silver Beaver. Bob Jarvis was honored with a 70-year pin in 2016 and received a personal letter from President George W. Bush. He was also able to go on an Honor Flight to Washington DC where he was able to meet Colin Powell and shake his hand. Bob was a member of Faith Baptist Church and was Re-baptized in the Jordan River by their Bible Study Leader and dear friend John Oberdier. Many knew Bob from leading the yearly Lake County Treasure Hunts from 1959 to 1982, as well as being a member in the Lake County Campers Club and one of the original home owners of Wildwood. Bob went to Duke University in North Carolina and graduated from Northwestern University in Evanston, IL in Engineering. Bob proudly served in the US Navy and US Marine Corps thru both WWII and Korean War. He also worked for Echo Products in Wheeling as an Electrical Engineer until he retired to spend more time traveling and relaxing up North at their Cabin. Bob had a kind, giving, and compassionate heart. He was known for giving flashlights to everyone he met, from the bank tellers, to nursing staff, physicians, technicians, neighbors and friends because he wanted to thank them for their kindness to him and just to see them smile. Bob was grateful to have had the opportunity to see and/or talk to each of his children and grandchildren prior to his passing. He personally told each of them how deeply he loved them and how he has faithfully prayed for them each and every night. It warmed his tender and failing heart to have talked to and seen so many who gathered to see him over his final days and wanted them to know that he would be okay no matter the outcome, as he knew his Salvation and he looked forward to seeing his wife again. We will forever miss this man for all he has taught us, for all he has instilled in us, for his kind and gentle compassion for others and for teaching us by example what Love and devotion really means.
He is preceded in death by his wife Mary L Jarvis, whom he missed dearly every single day since her passing and two of his siblings, Dorothy Miller and Thomas Jarvis. He is also survived by his loving sister Barbara Payson from Vermont. His 4 children: Tom (Lois) Jarvis, Ken (Sue) Jarvis, Carol (Doug) McDowell and Mary Ann Jarvis; 9 Grandchildren: Andy (and Meredith), Ella (and Kevin), Robert, Amy, Christina (and Jeremy), Esther (and Jake), Diana (and Jason), Wesley, Lydia (and Kurt); and 11 Great Grandchildren: Season, Shane, Amaris, Rain, Ezmeralda, Liam, Nolan, Travis, Declan, Zackery, Jacob and a 12th Great Grandchild due in April 2018.
Friends of the family may visit on Friday, November 17, 2017 from 4:00pm until 8:00pm at STRANG FUNERAL CHAPEL & CREMATORIUM, 410 E. Belvidere Rd., Grayslake, IL 60030.  Further visitation is scheduled at the funeral home on Saturday November 18, from 9am until the time of service at 10am. Interment will follow at Warren Cemetery 1495 N Cemetery Rd, Gurnee, IL 60031.