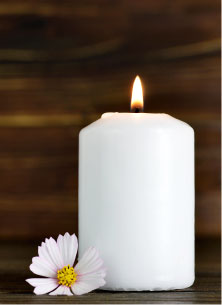 Winnie Ziegler
Published May 22,2014
Obituary's Biography:
Winnie Ziegler, 97, of Libertyville IL, passed away on May 19th at Advocate Condell Hospital in Libertyville. After a long and bountiful life, Winnie passed away Monday evening of natural causes surrounded by family.
Winnie was born in Valliant, Oklahoma to Hugh Larkin Belk and Inez Foster Belk on December 3, 1916. She was one of seven children. Winnie was preceded in death by her daughter Carolyn Main. Winnie is survived by husband Larry Ziegler, stepchildren, grandchildren, and great grandchildren.
Winnie enjoyed her last years with her husband Larry and their friends at the Spring Meadow assisted living facility. Before settling down with Larry, Winnie lived an adventurous early life. She spent most of her years traveling and enjoying all life had to offer. She loved sight-seeing, nature and animals. Winnie represented the ideal lady. She was always dressed well, had her nails and hair done, and presented herself in a polite and delicate fashion. Winnie enjoyed the finer things life had to offer, but never hesitated to share them with her family and friends. She was a rare gift and she will be truly missed by all who knew her. Arrangements were entrusted to STRANG FUNERAL CHAPEL & CREMATORIUM, 410 East Belvidere Road, Grayslake, IL 60030. For information, please call 847-223-8122 or visit www.strangfuneral.org.