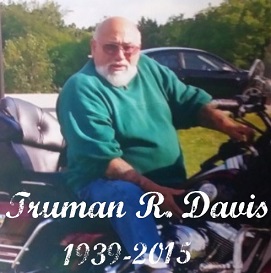 Truman R. Davis
Published July 28,2015
Obituary's Biography:
Truman Rae Davis
Born: August 27, 1939
Died: July 18, 2015
Truman Rae Davis 75 years old of Round Lake Beach, IL passed away unexpectantly at his home on July 18, 2015. Truman joined the United States Airforce in 1956 and served four years as a Sr. Lineman. He was born in Kincaid, Illinois the son of late Alphonse Boulanger and Dimple Jean. He was raised by his late grandparents Arvel and Mona Davis. On December 30, 1961 Truman married the love of his life his late wife Judith (Korpella) Davis they raised their family in Round Lake Beach. Truman spent his career as a Printer for Chicago Graphic Arts and had a passion for riding Harley Davidson's with his late wife Judy.
Truman was a devoted father to his children Janet Demien, James Mosely, Bradley Davis, Mark Davis (Jodi), Nicole Davis; his brother Alphonse Boulanger (Alexis); He adored his grandchildren Ryan Demien, Todd Demien, Erin Demien, Caitlyn Messina, Drew Toney, Cameron Kitto, Charlie Davis, Hannah Davis, Claire Davis, Chloe Davis and Kyle Davis. He also had four great grandchildren Logan Miller, Aiden Bartlett, Truman Demien and Aiden Davis.
A Celebration of his Life will be held on August 21, 2015 at Chain of Lakes Community Bible Church at 43 W. Grass Lake Road, Lake Villa, Illinois at 6:30 p.m.