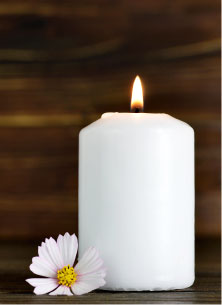 Sandra Stoneberg
Published March 05,2020
Obituary's Biography:
Sandra Lynn Stoneberg, age 76, passed away at her home in Lake Geneva, WI, on Monday, March 2, 2020. She was born on April 29, 1943 in Evanston, IL to Frank and Bernice (Bestul) Key.
Sandy loved growing up in Evanston and told stories of working at her Dad's restaurants the Big Dipper and the Key. She loved her siblings and family trips when she was young. She went on to graduate from Glenbrook High school.
She met her husband, Don, while babysitting for a family friend. Sandy and Don were married in October 1961. When my mom was young, the phrase "stay-at-home-mom" didn't exist. It was usual for women to stay home with the children while their husbands worked. But even by the standards of the era, Sandra was an exceptional wife and mother. She cared deeply for her family and neighbors. She did this not out of obligation, but because of who she was. She always ensured that every child who crossed her threshold was safe, healthy, and happy.
She lived in Grayslake for most of her life and spent her later years in Lake Geneva, Wisconsin. Sandy enjoyed hosting family events, and Christmas with everyone was always exceptional. She taught ceramics in Grayslake. We still have and use some of those holiday items. She loved all of her extended family nieces and nephews and enjoyed spending as much time with them as possible. Sandy loved and supported her family. Sandy enjoyed living in the Manor neighborhood where we all enjoyed swimming, fishing, skating and playing in everyone's yards. She loved all of her neighborhood friends and enjoyed weekend sporting events and snowmobile trips with them. She worked at Judy's Family Hair Care Gift Shop and enjoyed everyone in town. She also worked at Fergusons in Libertyville and retired from Cambridge Homes. She very much enjoyed living in Lake Geneva and the home they had there. She loved having friends and family come to visit in Lake Geneva. For the last 17 years she and Don lived at Crystal Lake Village in Wauchula, Florida during the winter months. They enjoyed all their new friends and family visiting there as well. She loved decorating all the places she lived and shopping for items that looked just right for each place.
Sandy became the glue of the family. Everyone enjoyed her humor and quick wit. Sandy loved to revisit and remembered every detail of her childhood and shared many memories with her children and grandchildren. She loved remembering all of her life adventures.
She loved vacations with her children and grandchildren when they were young: camping, Disney World and visiting in the north woods. She loved to travel with her mom and sisters and go on cruises with Don.
Most of all Sandy loved spending time with her grandchildren and great grandchildren and going to sidewalk sales in Lake Geneva.  She loved taking them to the movies and having them spend the night.  It was always a special treat to be there.  Her grandchildren and great grandchildren called her fancy and classy.  Her presence among us all will be missed dearly! Sandra is survived by her daughter Julie (David) Oatt of Bristol, WI; grandchildren, Kristy Hanna and Matt Mackay of Milwaukee, WI, Katie (Erik) Malmstadt of Milwaukee, WI, Tyler Hanna and Courtney Lancour of Milwaukee, WI, David Oatt Jr. of Bristol, WI, Grant Stoneberg of Ingleside, IL, and Brock Ellis of Ingleside, IL; her great-grandchildren, Jayden, Hunter, Cayden and Ophie.  She is also survived by her siblings, Sharon (Bill) Potter of Wauchula, FL, Wendy Brewington of Pell Lake, WI, and Forrest Key of Gurnee, IL.  Sandra was proceeded in death by her parents, her husband, Donald Stoneberg and her son, Eric Stoneberg.   A visitation is scheduled for Tuesday, March 10, 2020 from 5:00pm to 7:00pm with a time of sharing beginning at 7:00pm at Strang Funeral Chapel & Crematorium, 410 East Belvidere Road, Grayslake, IL 60030. For information, please call 847-223-8122 or log on to www.strangfuneral.org.