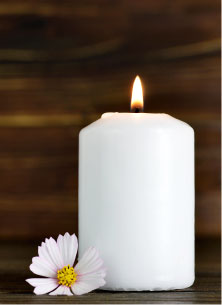 Patricia H. Aleckson
Published March 31,2019
Obituary's Biography:
Patricia Helen Aleckson (Dean), 93 years old, passed away peacefully in her sleep on Friday, March 29th, 2019.  She was born on April 5th, 1925 to the late Emerson & Irene Dean in Highland Park, Illinois.  In June of 1946 she married Paul Robert Aleckson and they raised their two children in Glenview, Illinois.  Patricia was an avid animal lover and enjoyed spending time with her family.  She cherished her children, grandchildren, and great-grandchildren and will be deeply missed by all that knew her. 
Patricia is preceded in death by her parents, Emerson & Irene Dean, her brother Emerson Dean, her husband Paul Robert Aleckson, her grand-daughter Kristin Aleckson, and her son-in-law Joseph Wolinski
She is survived by her children Robert Edward Aleckson (Maureen), Patricia Wolinski, her grandchildren Jennifer Greenberg (Matthew), Joseph Wolinski (Laura), and Brian Aleckson.  Patricia also had five great grand-children, Kaitlyn Greenberg, Ryan Greenberg, Jacob Greenberg, Grace Wolinski, and Natalie Wolinski.
Visitation for Patricia will be held on Tuesday, April 2nd 2019 from 10:00 AM until 12:00 PM at Strang Funeral Chapel located at 410 E. Belvidere Road, Grayslake, IL.   A graveside service will immediately follow the visitation at the Memorial Park Cemetery located at 9900 Gross Point Road, Skokie, IL.  For more information, please call 847-223-8122 or visit www.strangfuneral.org