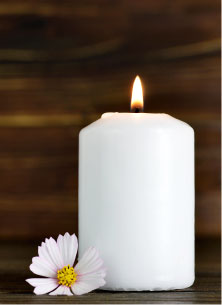 Howard F. Moran
Published July 13,2023
Obituary's Biography:
Howard Francis Moran, 96 years old of Grayslake Illinois passed away Tuesday July 11th, 2023. He was born September 7, 1926 in Chicago to James and Mabel Moran. Growing up near Wrigley Field, as a child Howard enjoyed attending Cubs games outside the stadium hoping to catch a homerun ball on Waveland Ave. Howard graduated from Lane Tech High School where he excelled in his studies. From there he enlisted in the Army Air Force. He proudly served during World War Il and trained as an Aviation Cadet, Bombardier in a B-25 Mitchell. In addition, he served in the Korean War where he was promoted to Sergeant. After his service, Howard graduated from the University of Illinois with a degree in Mechanical Engineering. Upon graduation, Howard worked at Fairchild Aircraft and Vern E. Alden where he met his wife Mary. From there he was employed at Kraft Foods for over 40 years where he was awarded the J. L Kraft Jade Ring for outstanding service. Howard married the love of his life Mary Stanton and enjoyed over 69 loving years and shared 9 children. Thomas Moran, Michael (Donna) Moran, Daniel Moran, Patty (Steve) Heinze, Peggy Bar (Steve), Katy (Roger) Wall, Kevin Moran, Molly (Sean) Ferrell, Tim Moran. His 12 loving grandchildren, Kyle (April), Shannon, Ryan, Connor, Daniel, Griffin, Dillon, Kayla, McKenzie, Jack, Nolan, Braeden. Howard was preceded in death by his parents James and Mabel, his brother James, and his sons Thomas and Daniel. A visitation is scheduled for Saturday July 15th, 2023 from 10:30-11:00 AM, with the Mass commencing 11:00 AM, , St. Gilbert's Church 301 E. Belvidere Rd. Grayslake IL. Burial immediately following mass, All Saints Cemetery, Des Plaines IL. All funeral arrangements were entrusted to Strang Funeral Chapel & Crematorium 410 E. Belvidere Rd. Grayslake, IL 60030.
In lieu of flowers, please donate to St. Jude Children's Research Hospital. For more information log onto www.strangfuneral.org.