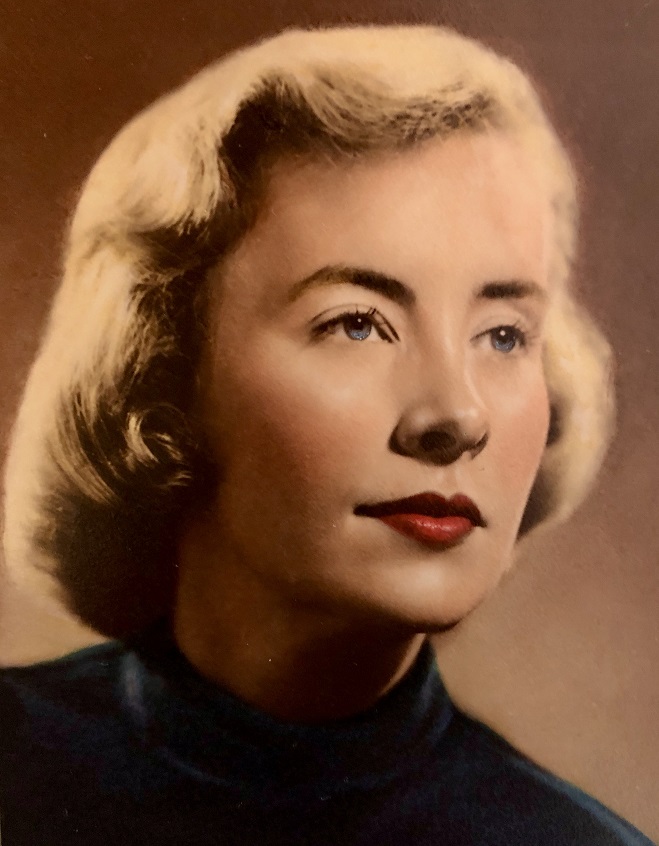 Drucilla Ann "Dru" Carlson
Published February 15,2020
Obituary's Biography:
Drucilla Ann "Dru" Carlson: Longtime Glenview resident, Chicago film family matriarch
If her life were a movie, Dru Carlson's story would defy categorization.
She was, by turns, a talented actress, fiercely independent adventurer, devoted wife, good-humored and supremely organized mentor, union organizer, female film trailblazer, and beloved matriarch of a television and film industry family that extended well beyond her own four children.
Each role carried significant plot elements. None come close to capturing her multidimensionality. All contribute rich layers to the tapestry of one extraordinary life.
Carlson, 87, departed this earth on February 12, 2020, in a manner befitting someone who was a highly regarded producer: at her daughter's Grayslake home, and in the presence of her children, she passed away peacefully in her sleep.
"I think we can truly say Mom died of old age, and she was ready to go," said one of her daughters, Druann. Her other daughter, Mary, added: "And she did it her way."
Along with her late husband, Don, for decades she was at the helm of a family, and a much broader professional family, as she left an indelible imprint on the local and national film community.
After meeting as coworkers at Wilding Studios, the famous Chicago film studio, the couple was married for nearly 55 years until Don's death in February 2012.
He had been diagnosed with amyotrophic lateral sclerosis (ALS) five years earlier. During this last stage of his life and their time together, Dru displayed a level of love and attentiveness that had become familiar hallmarks of her character.
"Mom was there for Dad as they struggled with ALS. She was his caregiver for years," recalled Mary. "They even contributed to a study to help the medical community research ALS."
Born Drucilla Ann Smith on June 15, 1932 in Chicago, she was the second born of Clark C. Smith and Mary Ann Graham.
A childhood affinity for movies blossomed not only into a lifelong zest for going to the cinema, but also creating shows for the television and silver screens.
She attended high school at St Joseph's Academy in St. Louis and Mount Carmel Academy in Wichita, from which she graduated. She then enrolled at Webster College near St. Louis, a women's college where she was a theatre major and participated in many productions, including playing the title role of Hamlet.
After her college graduation, Dru and one of her college roommates traveled to Europe. There, they rented a VW Beetle and explored France, Italy, Spain and Germany for a few months before selling their car for a profit and returning to the United States.
Right after that excursion, she and her roommate decided to move to Chicago. She secured a job at Wilding Studios, where she was trained as a script supervisor and met Don. They married on Sept. 14, 1957, and 11 months later, their first of four children, Don, was born.
When Don Sr. was promoted to be a director at Wilding Studios, they moved to Glenview, where they resided for 45 years and were actively involved with the Glenview Theatre Guild on productions such as I Remember Mama and The Music Man .
Dru also brought her consummate organizational skills to bear in running the Carlson household.
"Mom had a great knack for budgeting and organizing. As a film director, Dad traveled half the year during our childhood and Mom did it all," said Mary. "I think It gave her the experience to run a whole film crew later as an assistant director. They organize and schedule the whole film. She was skilled in keeping things going on schedule amid the chaos of raising four kids practically single-handedly, and those traits were perfect for the film environment."
By maintaining strict budgets, Dru opened up opportunities such as traveling to Europe for two months, which the family did one winter when the four children were all teens. "It was an amazing trip," said Druann. "One we will never forget."
While focusing on raising the children into their high school years, Dru returned to work full-time as a script supervisor. Her first film back to work was The Monitors, a 1969 film starring Larry Storch. She also became an organizer for IATSE Studio Mechanics Local 476 Chicago, giving script supervisors union representation for the first time.
She quickly moved on to assistant directing television series, including Chicago Story, Hill Street Blues, as well as many other independent and studio films.
"Our mom was elegant and graceful, organized and tenacious, an independent free thinker who had a great sense of humor," said Rob Carlson, the youngest of the children. "We all really loved Mom. She was a great lady. We will greatly miss her."
The first female assistant director in Chicago, and among the first nationally, Dru helped many people grow in their film careers. Included in this group are many current assistant directors and producers who are some of the industry's brightest lights.
Her eldest, Don Jr., called his mother "a real pro" and said he loved working with her.
"She really knew her stuff and made our life as the crew easier. But as the first female assistant director many people worked with, she had to really stand her ground," he continued. "She totally knew what she was doing, so she had the authority and confidence, but still the 95% male crew gave her a hard time. They were not used to a woman commanding the set. Eventually, she won them over and taught a lot of other women and men the ropes who are now producing prominent shows and feature films."
As with her husband, Dru's legacy extends beyond her own career and through the professional pursuits of her children. For nearly four decades, Don, Mary, Druann and Rob Carlson, collectively and often collaboratively, have worked on hundreds of major motion pictures, television series, industrial films and commercials.
A devout Catholic, Dru was fanatical in her love of sports. That passion extended to her support of the Notre Dame Fighting Irish football team—Don Jr. took her to a game in South Bend annually—as well as the Chicago Bears. She also rooted for both the St. Louis Cardinals and Chicago Cubs, two of professional sports' fiercest rivals. That unusual dual alliance stemmed from her being raised in both St. Louis and Chicago, with a significant period growing up in Wichita, Kansas as well.
Another love in the sporting realm was horseracing, and Dru took all her grandchildren to Arlington International Racecourse and taught them how to bet on the horses.
She is survived by her sister, Jeanne Nyberg of Orlando, Fla.; her four children: Donald J. (Nan) Carlson, of Indiana and Los Angeles; Mary (Ron Gorecki) Carlson of Tucson, Ariz., Drucilla A. Carlson of Grayslake, Ill.; and Robert C. (Makiko) Carlson of Los Angeles; four grandchildren, Don Jr. (Janelle); Hannah and Cathy Carlson, and Melissa (Josh) Monroe; and two great-grandchildren, Nathan and Ryan Monroe.
A wake will be held from 4 p.m. to 8 p.m. on Friday, February 21 at Strang Funeral Chapel & Crematorium, 410 E Belvedere Road in Grayslake, Ill. 60030. The funeral service will be at 11 a.m. Saturday, February 22, at St. Paul the Apostle Church, 6401 Gages Lake Road, Gurnee IL 60031. Interment will follow at Ascension Cemetery in Libertyville. All are invited to a lunch and memorial celebration that follows on Saturday afternoon at The Silo Restaurant, 625 Rockland Road, Lake Buff, Ill. 60044. For more information, please call 847-223-8122 or visit www.strangfuneral.org.