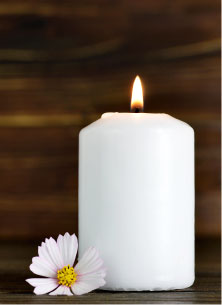 Demaya Arielle Baxter
Published September 26,2017
Obituary's Biography:
Infant Demaya Arielle Baxter was called to heaven on September 22, 2017. She was loved by so many especially by her parents, Alicia Davis and Devonte A. Baxter; grandparents, Yadira Cordova, Felita Rankins and Devan Baxter Sr; great grandparents, Ema Cordova, Jasper Cordova, Patricia Golden, Tyrone Golden, Ralph Noland Jr, Donald Baxter and Eugenia Baxter; Aunt, Fierra Liberty; uncles, Jimmy Gonzalez, Devan Baxter, Jr, Ryan Relucio and a host of great aunts, great uncles and cousins. She was preceded in death by her grandfather, Michael Edward Davis.
A visitation and funeral mass is scheduled for Saturday, September 30, 2017 from 10:00am until 11:00am with a funeral mass commencing at 11:00am at St. Gilbert Catholic Church 301 E. Belvidere Rd. Grayslake, IL 60030. Interment will be held at Ascension Catholic Cemetery. For more information please contact (847)223-8122 or log onto www.strangfuneral.org.
"When I must leave you for a little while, Please do not grieve and shed wild tears and hug your sorrow to you through the years, but start out bravely with a gallant smile; and for my sake and in my name live on and do all things the same, feed not your loneliness on empty days, but fill each waking hour in useful ways, reach out your hand in comfort and in sheer, and I in turn will comfort you and hold you near; and never, never be afraid to die, for I am waiting for you in the sky!" -Helen Steiner Rice